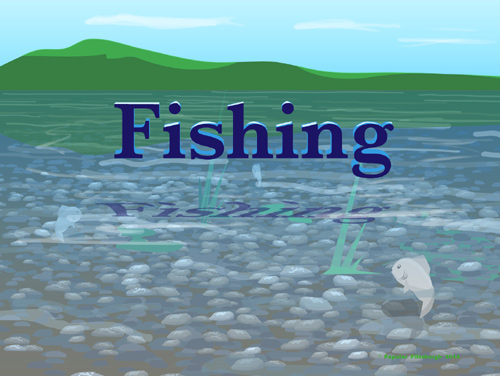 Fishing in Pittsburgh
November 24, 2014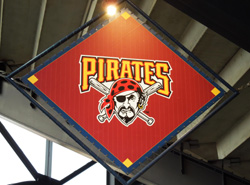 Pittsburgh Pirates Good Luck Charm
November 24, 2014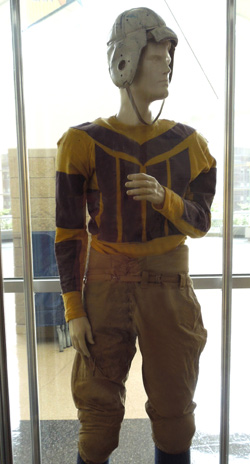 Nine national championships, four hall of fame coaches, countless legendary players and rabidly loyal fans.  No it's not the Steelers but the well-kept Western PA secret known as Pitt Football!
With 28 bowl appearances, 86 first team All-American honors and 23 first round NFL draft picks, Pitt football has its own unique and storied history as part of the local sports landscape.  Inspired by legends Pop Warner and Jock Sutherland up through the modern era of Johnny Majors, Jackie Sherrill and now Paul Chryst, the Pitt Panthers have been led by coaches who need no introduction in coaching circles.  Yes, the ingredients for one of the most renowned college football programs have been firmly in place and remain strong today. it includes fans so loyal that they followed their Panthers from Pitt Stadium on "Cardiac Hill" to Heinz Field on the North Shore.  Add to the mix illustrious players who have achieved All-American status and furthered their football 'education' in the NFL.  Names like Goldberg, Marino, Dorsett, Green, May, Fralic, Martin, Fitzgerald, and McCoy dot the marquee of the Oakland campus legends.
Early Years
In the early part of the 20th century, when college football (known for its extreme violence) was both hated and loved. In 1915, 1916 and 1918 Pitt was the forerunner in ringing up championships under Pop Warner, the 'father' of modern football.  Warner not only coached Pitt to championships, but contributed innovations to the game such as the single wing formation and the use of extra leg padding.  He coached Pitt's first All American, Robert Beck, and generated such support for the team that funding for Pitt stadium began during his tenure.
Pop's protégé, Jock Sutherland, was next in line and did his best to fill his mentor's shoes by being the first Pitt insider to be named head coach.  A Pitt All-American guard, Sutherland was a graduate of Pitt's Dental School.  The Sutherland era was marked by Eastern Championships, Rose Bowl wins, and a reign of domination through the 30s that saw five national championships and the transformation of college football from a rough and tumble sideshow to a national spectacle.  The opening of Pitt Stadium in 1925 and the mentoring of All-American tailback Marshall Goldberg were additional landmark events of the Sutherland regime.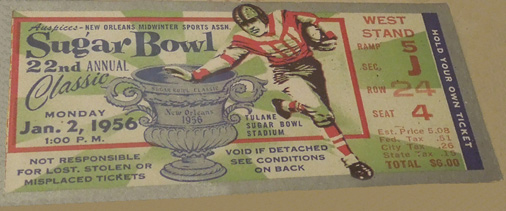 Pitt's de-emphasis on athletics saw the football program stumble through the '40s and into the '50s until Johnny Michelson, a former Pitt quarterback (under Sutherland) and former Steelers head coach, took over the reins in 1955.  The new coach immediately began restoring Pitt to its fabled glory years of the '30s.  Pitt began an aggressive national scheduling policy during this time and never hesitated to play powerhouses such as Notre Dame, Nebraska, USC, UCLA, and Syracuse on a regular basis.  Michelson's 1963 team fared 9-1 and was uninvited to a major bowl only because of schedule changes following JFK's assassination.  It remains one of the best teams in Pitt history.  Local legends Paul Martha and Mike Ditka were the stalwarts, and both owed their collegiate success to Michelson before starting their storied NFL days.
Overcoming Hard Times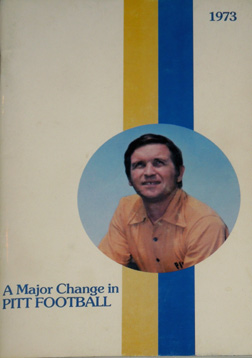 By the mid-1960s hard times returned.  Several losing seasons put Pitt into a tailspin that nearly cost the university its football team.  It was a descent that ended, miraculously, by becoming the launching pad for a renaissance of success starting in 1973.  Pitt's Chancellor Wesley Posvar, although tempted to de-emphasize Pitt's athletic programs because of the embarrassment of the football team, decided to move in the opposite direction.  Luring Tennessee native Johnny Majors from his Iowa State head coaching position to Pitt in 1973 prompted the "Major Change" that resurrected the program and moved it back on the fast track.  Ahead lay a nine-year level of intensity that has yet to be matched.
Recruiting like madmen in Western Pennsylvania, Majors' staff picked up all the strong local talent including Tony Dorsett from Hopewell High School in Aliquippa.  Surrounded by other outstanding athletes as part of his initial sweep of the country, Coach Majors' Panthers stunned Georgia with a tie in their first game and astonished the collegiate experts with a 6-5-1 record in 1973; not bad after a one win season in '72.  Measured progress in 1974 (7-4) and 1975 (8-4) along with a Sun Bowl win were nothing more than stage settings for the main act of 1976.  Undefeated, untied, number one in the East, number one in the country, Coach Majors led his troops to a National Championship as Dorsett blazed the trail!  A 24-3 win over Georgia in the Sugar Bowl signified that Pitt football was again a national force, and Dorsett became Pitt's first Heisman Trophy winner.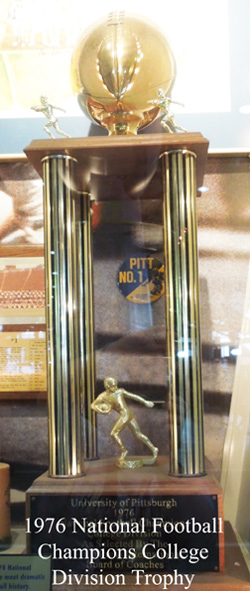 Before the glow of the Sugar Bowl win had waned, Coach Majors stunned the Pitt world by going home to Tennessee to lead his alma mater.  Trusted assistant Jackie Sherrill stepped in to the top spot and didn't miss a proverbial beat.  Again, recruiting was key as the likes of Mark May, Hugh Green, and Russ Grimm joined the ranks of Panther All-Americans who kept the success story rolling.  Sherrill's first two years of 9-2-1 and 8-4 simply prepared the Panthers for a run never before seen by Pitt fans and yet to be matched to this day.  With local Central Catholic legend, Dan Marino, taking control at quarterback, the Panthers reeled off three consecutive 11-1 seasons from 1979 to 1981.  While National Championships may have been lacking, over 20 players from the 1980 Pitt team found their way to starting NFL jobs, including an incredible seven first round draft picks.  Coach Sherrill left Pitt for Texas A&M, but only after recording the highest winning percentage of any Pitt coach:  fifty wins in five seasons.
Today
A general falloff in the '80s and early '90s saw the program rising and falling under various coaches while fans pined for the glory days.  Coach Walt Harris' offensive-minded approach revitalized the Panthers starting in 1997.  His high flying aerial circus generated consistent bowl appearances led by future NFLers Antonio Bryant, Larry Fitzgerald and Tyler Palko.  It was an effort capped by the Bowl Championship Series (BCS) and Fiesta Bowl in 2004.  A move off the Pitt campus into their modern South Side UPMC Performance Complex and Heinz Field on the North Shore highlighted the Harris years.
Dave Wannstedt, former Panthers lineman and professional head coach (Bears and Dolphins), returned to his alma mater in 2005 and brought his tough-minded Pittsburgh approach to the revitalized Panthers.  Superb recruiting, stunning upsets of West Virginia in 2007 and 2008, and a Sun Bowl berth in 2008 put the Panthers back into the national spotlight with Coach Wannstdt's departure after the 2010 season, the reins of the program are firmly held now by Paul Chryst, the former Wisconsin assistant who brought a Western PA style of football back to the program.  As Pitt Athletics move to the Atlantic Coast Conference (ACC) starting in 2013, Panther football fans look forward to a recharged program, new and exciting rivalries and an energized atmosphere at Heinz Field for many years to come.
By Dom Gliozzi