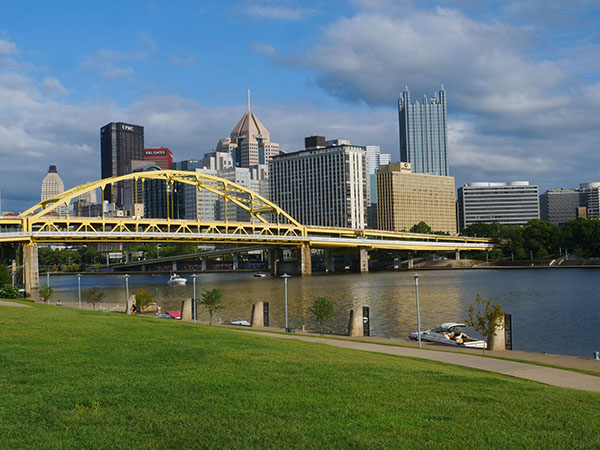 A Summer Sunset From the North Shore
July 12, 2021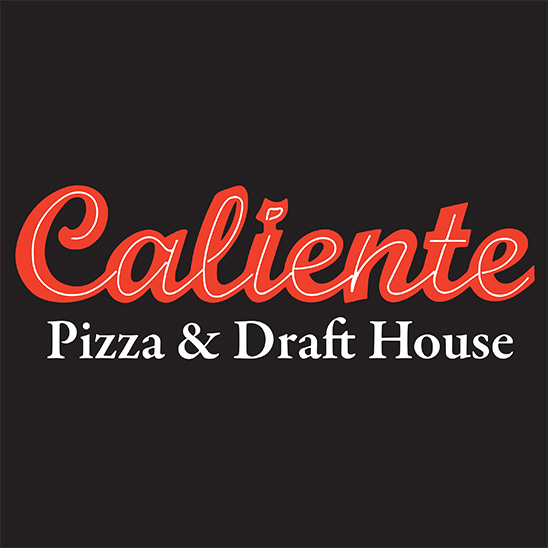 Caliente Pizza & Draft House: World Pizza Champions
July 26, 2021
Some buildings just ooze style. You don't have to be an architect to see that the Koppers Building in downtown Pittsburgh has a lot of style.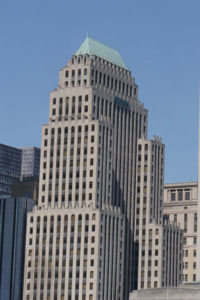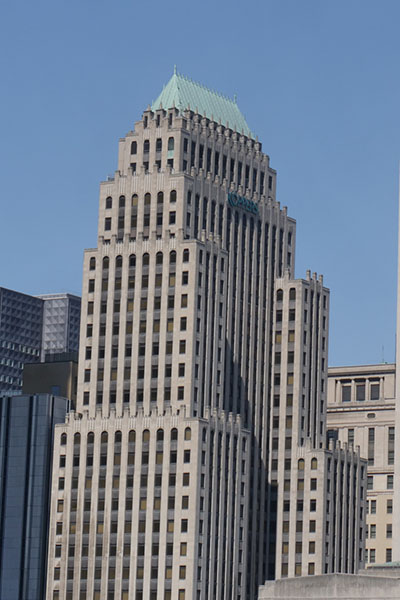 The Koppers Building
Built in 1929, the Koppers Building is exemplar of Art Deco style of architecture. It stands at the corner of Grant Street and Seventh Avenue in downtown Pittsburgh. At 475 feet tall, with 35 floors, this building was once the second tallest in the city. The Grant Building down the street won out by only ten feet and one month. Today, the Koppers Building holds the title of 12th tallest building in Pittsburgh. Chicago architects Graham, Anderson, Probst and White, with associate E.P. Mellon of New York, oversaw the construction of the building. It cost $5.3 million to build at the time—that's nearly $80.72 million today (2021)!
They used polished granite and Indiana limestone for the exterior. The granite stretches up to the first four floors. From there, the limestone adorns the building up to the roof. Quarry tile covered by copper creates the beautiful, green, chapel-style roof. Beginning in the 1950s, the distinctive roof can be seen illuminated at night. Inside, the three-story lobby is clad in three types of marble that runs up into balconies on the second and third floors. Additionally, bronze features ornament the elevators and revolving doors. Likewise, brass decorates the mailboxes and trims executive office door knobs.
The Koppers Company
Unsurprisingly, the Koppers Building was originally constructed to serve as the headquarters for the Koppers Company. This company was a global chemical and materials company with a lot of business in the steel industry. It all started with Heinrich Koppers, a German engineer in Chicago. He developed an enhanced chemical-recovery coke oven in the early 1900s. For those not in the industry, coke is a high-carbon fuel derived from coal or oil—such as petroleum—which is used in the production of steel. The company was originally incorporated as Heinrich Koppers AG, in Chicago in 1912. In 1914, Andrew Mellon acquired the controlling stake in the company and moved the headquarters to Pittsburgh.
The building served as the company's home for nearly five decades. Then, in the 1980s, a British firm, Beazer, acquired Koppers and sold the company for parts, keeping only a portion. The surviving company, Koppers Inc., remains in the building along with various other tenants.
While Koppers, the company, may have changed, its building remains as stylish as it did when it opened nearly 100 years ago.
By Janice Lane Palko