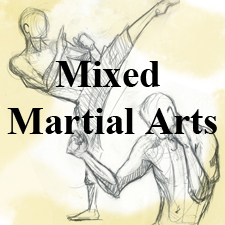 The Birthplace of Mixed Martial Arts Matches
May 12, 2016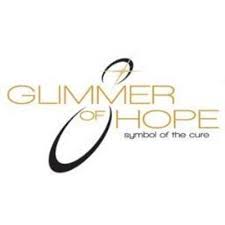 What Young Women Need to Know About Breast Cancer
May 16, 2016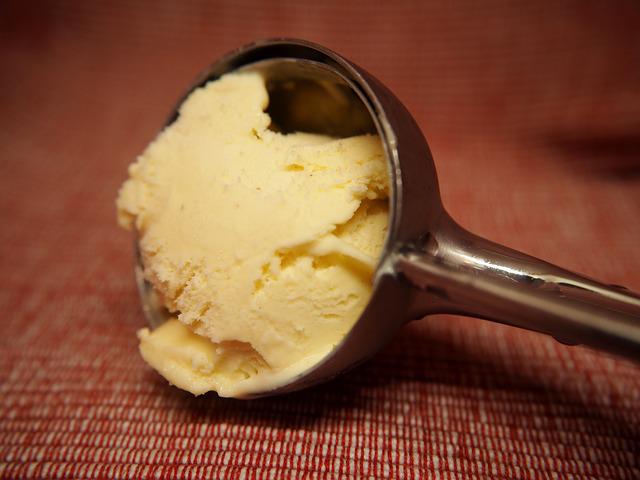 Homemade Ice Cream
2 cups heavy whipping cream
1 tsp. vanilla
1/2 cup sugar
pinch of salt
Having a 3-lb. and a 1-lb. empty coffee can which seal tightly will work best for this recipe.
Mix all ingredients together in a sealed 1-lb. can. Tightly seal it.
Place that can inside the 3-lb. can. Put a layer of ice around the small can followed by a layer of rock salt. Continue to add alternating layers until the entire can is full. Seal the larger can with its lid. Roll the can for about 15 or until the ice melts and the contents of the small can freeze.
Depending upon the heat and humidity, you may need to refill the can with rock salt and ice again until the ice cream mixture freezes.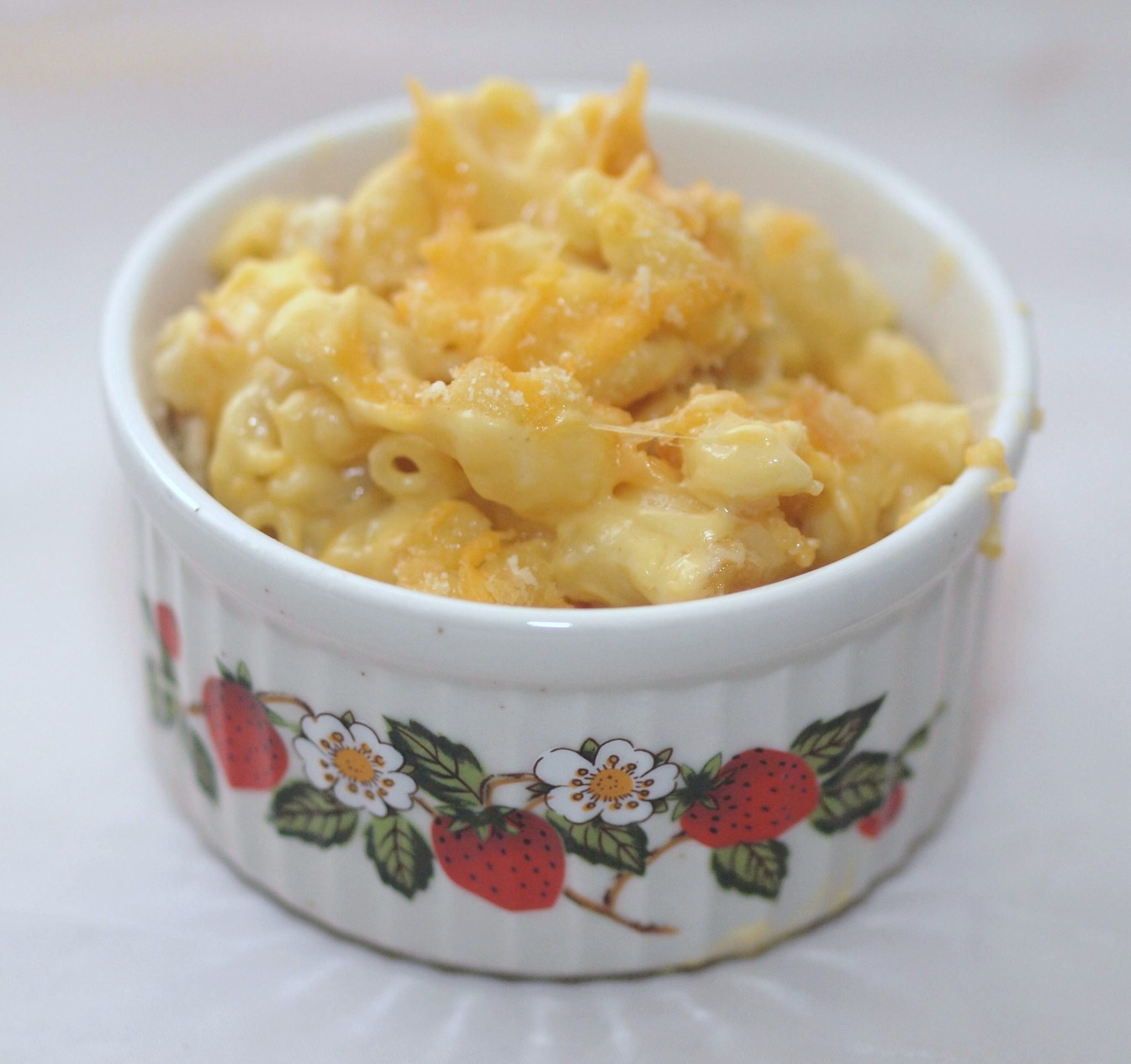 Macaroni and Cheese
4 tablespoons unsalted butter
1/4  cup flour
1 cup whole milk
8 ounces Velveeta (processed cheese)
2 cups elbow macaroni, cooked
1/2 cup shredded cheddar cheese (mild or sharp)
1/4 cup bread crumbs
Your favorite hot sauce (optional)
Preheat oven to 350ºF. Cut Velveeta into 1/2" cubes and set aside.  Melt 3 tablespoons butter in medium sized saucepan on medium heat.  With constant stirring, whisk in flour and cook for approximately 2 minutes.  Stir in milk.  Bring to a boil.  With constant stirring, cook for 3 to 5 minutes or until mixture thickens.  Add cubed Velveeta.  Stir while cooking until cheese melts, about 3 minutes.  Stir in macaroni. Spray a 2 qt. casserole dish with cooking spray.  Move mixture into casserole dish.  Sprinkle with shredded cheddar cheese.  Melt remaining butter, whisk in bread crumbs and sprinkle mixture over casserole.  Bake for 20 minutes. Serve with or without your favorite hot sauce.
Yields:  5 one cup servings
Takes roughly 45 minutes to make
Yes, kids love to eat the stuff that comes in a box. The sooner you can break them of that habit the better.  This recipe is fast, easy and homemade!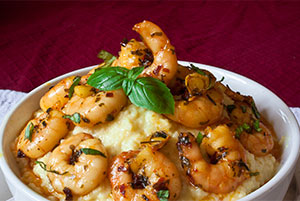 Super Shrimp and Cheesy Grits
5 cups chicken broth
1 cup stone-ground grits (sometimes it's labeled polenta)
2 teaspoons of salt
2 cup shredded sharp cheese
2 cups half-and-half
2 tablespoons butter (if using precooked bacon otherwise use the bacon drippings)
1 green pepper, chopped
1 red pepper, chopped
1 yellow pepper, chopped
1 onion, chopped (about 1 cup)
1 teaspoon garlic, minced
1 can diced green chilies, drained
1 tomato diced
2 pounds of peeled, cleaned, deveined shrimp (I use frozen)
6 slices of bacon (I'm lazy, I use precooked bacon)
1 tablespoon Worcestershire sauce
¼ teaspoon red pepper flakes (more if you like it hotter)
¼ cup flour
¼ cup butter
Bring 4 cups of chicken broth, 1 cup of grits and 2 teaspoons of salt to boil in a heavy sauce pan with a lid. Add half-and-half and stir. Turn the heat down to simmer until grits thicken approximately 20 minutes. Stir occasionally. Cover and set aside.
If using uncooked bacon, place it in a large skillet and fry until brown. (I use precooked bacon and microwave it instead and then crumble when cool.) If using real bacon, transfer the cooked bacon to paper towels to drain and crumble when cool. If using real bacon, retain the bacon drippings in the skillet and add the peppers, onion, and garlic to the drippings and sauté until translucent. If using precooked bacon, add 2 teaspoons butter to a skillet and then sauté the peppers, onion, and garlic in butter until translucent. Add the shrimp to the skillet with the cooked vegetables and heat on medium. While the shrimp mixture is cooking, in a small sauce pan, melt ¼ cup butter and then stir in ¼ cup of flour to make a smooth roux (paste). Cook the roux on low for about 8 minutes, stirring constantly until it turns a medium brown color. This can burn easily so keep an eye on it. Once the roux is browned, add it to the skillet with the shrimp and vegetables and over medium heat add, 1 cup of chicken broth, crumbled bacon, green chilies, diced tomato, Worcestershire sauce, red pepper flakes, and salt and pepper to taste. Stir until the sauce thickens and the shrimp turns pink. To the warm grits, add 1 cup of cheddar cheese and heat until the cheese melts. (Note, if you prefer thinner grits, you can thin by adding more chicken broth until you reach your desired consistency.) Serve shrimp and vegetable mixture over the cheddar grits.
This recipe should serve 8 people.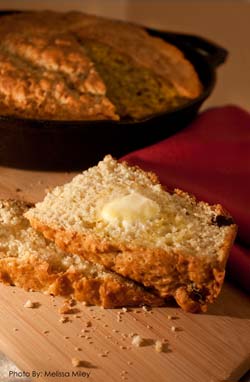 Grandma Nell O'Connor's Soda Bread
3 1/2 cups sifted flour
2/3 cup sugar
1 tsp. salt
1 Tbs. baking powder
1 tsp. baking soda
1 1/2 cups seeded raisins (I like to mix the dark and light together.  I also soak them in warm water for a few minutes as it plumps them up.)
1 Tbs. caraway seeds (optional; I don't use caraway unless I know the person getting it likes them.)
2 eggs
1 1/2 cups buttermilk (I may add a little extra if the batter looks too dry after mixing.)
2 Tbs. melted butter
Preheat the oven to 350 degrees. Sift together into a large mixing bowl, flour, sugar, salt, baking powder and soda.  Stir in raisins and caraway seeds (optional).  Beat eggs, then add buttermilk and butter, mix together.  Add to dry ingredients and mix lightly.  (If you like your soda bread a little moister, you can add a small amount of buttermilk here). Pour mixture into a well-greased cast iron skillet.  Before putting it in the oven, take a knife and make the sign of the cross on the top of the bread.  I was told it was to bless those who ate it.  It might just be a family tradition.  Bake for 1 hour.
*Tie a green bow around the bread and give to a favorite lad or lassie. While you're here, you might want to read about 
Pittsburgh's Irish Heritage
.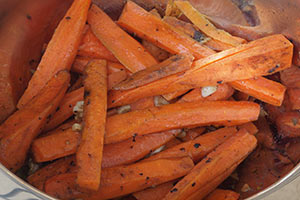 Roasted Carrots
About a pound of medium sized carrots
2 to 3 tablespoons of olive oil
2 to 3 tablespoons of red wine vinegar
2 to 3 cloves of crushed garlic
Salt and pepper to taste
Carefully peel carrots, and cut them into 3 to 4 inch pieces. Carefully cut carrots in half lengthwise. While most of the carrots I cut lengthwise are fairly uniform in size, I make sure that some of the pieces are smaller sometimes much smaller than the carrot halves I started with. It gives the dish another dimension of flavor. In a mixing bowl coat carrots with oil, vinegar, garlic, salt and pepper. Place carrot mixture in baking dish and cover with aluminum foil. Bake in a 400 degree oven covered for 30 minutes. Remove foil and bake another 10 minutes. Enjoy!
I love recipes that have just a few ingredients, that take just a few steps, where you end up with something that's absolutely delicious.  You can cook frozen carrots in a few minutes, but you're not going to get the flavor that the following recipe delivers.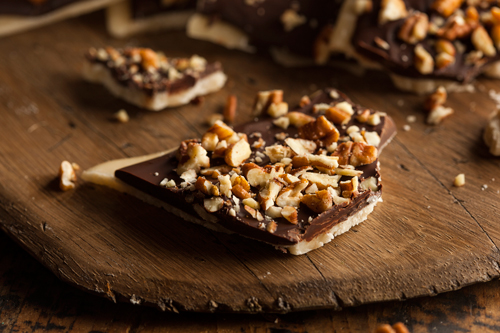 Almond Toffee
1 cup butter
2 1/2 cups sugar
1 1/2 cup sliced almonds
1 tsp. vanilla
1 bag of semisweet chocolate morsels
1 cup chopped walnuts
In a medium saucepan, combine the butter and sugar and cook over a low heat, stirring constantly until the sugar is dissolved. Gradually raise the heat as you continue to stir until the mixture comes to a boil. When it boils, remove from the heat and stir in the almonds. Return the saucepan to the heat and cook, stirring constantly until the candy thermometer reaches 290 degrees F. Pay close attention as the mixture will become grainy and then quickly become like molten glass in appearance when it reaches 290 degrees and become toffee. Remove from heat and stir in vanilla. Then pour the toffee into a greased jelly roll pan and spread it to the edges of the pan. (Be careful because a metal pan will soon become hot.) Pour the chocolate morsels on top of the toffee. The heat from the toffee will melt the chocolate. Spread the melted chocolate evenly over the toffee and immediately sprinkle the chopped walnuts over the chocolate. Let cool. When completely cool, break the toffee into bite-sized pieces. It makes about 2 1/2 pounds of toffee and can be kept in air tight containers.
This is a wonderful treat and makes quite a bit. I have given it as gifts during the holidays. One caution: unless you like taking risks, use a candy thermometer. If you don't have one, invest in one. It is very easy to burn the toffee and ruin the whole batch.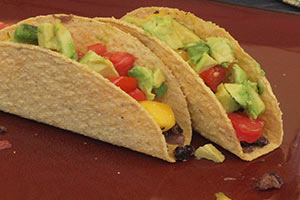 Mango, Avocado and Black Bean Tacos
8 corn taco shells
2 tablespoons olive oil
2 garlic cloves, minced
1 jalapeno pepper, seeded and minced (optional)
1/4 cup diced red onion
1 16 oz. can cooked black beans, drained and rinsed
1/4 teaspoon chili powder
1/4 teaspoon cumin
a pinch of salt
2 tablespoons lime juice
1 large mango, peeled, pitted and diced
1 tablespoon chopped cilantro
hot sauce to taste (optional)
1 cup chopped tomatoes
1 avocado, pitted and chopped
a small container of sour cream
Place taco shells on a cookie sheet and bake in a preheated 325-degree oven for 6 to 7 minutes. In a medium sized skillet over medium heat, add onions, garlic and jalapeños to 2 tablespoons of olive oil. Sauté for 2 to 3 minutes. Reduce heat and add beans, cumin, chili powder, lime juice, and salt. While cooking, gently smash about half the beans with the back of a large spoon. Set aside Mix mango with cilantro. Set aside Mix tomatoes with avocado. Set aside Assembly Add a few tablespoons of bean mixture to a heated taco. Place a teaspoon full of sour cream on top of the bean mixture. Add mango with cilantro and top off with tomato and avocado mixture.
Should make 8 tacos.
Note 1: Make sure your guests like jalapeños before you add them. Note 2: The consistency of the bean mixture after cooking should be slightly moist. If your mixture appears too dry, add a few tablespoons of water and remove from heat. If the mixture has an abundance of liquid, keep on burner until the solution reduces before you remove it from heat. Note 3: Make sure you have a container of hot sauce available for guests who like to take their tacos to a higher temperature.
Recipes
No matter the season it can be fun to experiment with food. Check out some of the favorite recipe's of Positively Pittsburgh and some its readers.
Add your recipe to our list by filling in a form here.