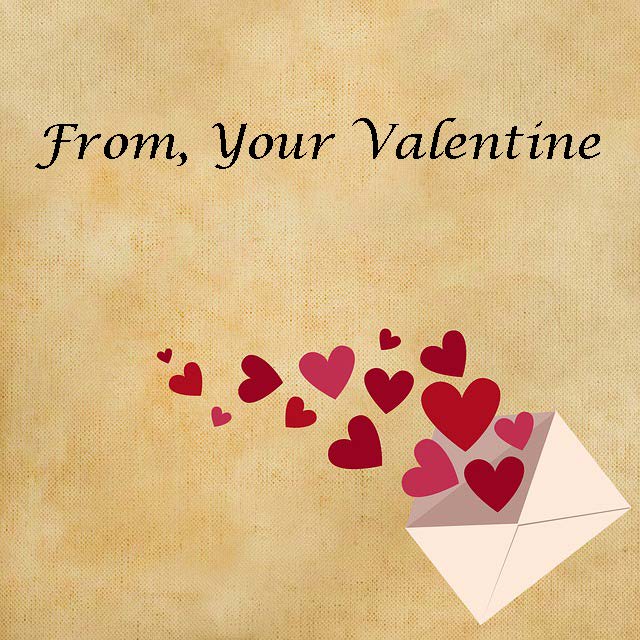 History Behind the Holiday: St. Valentine's Day
February 14, 2022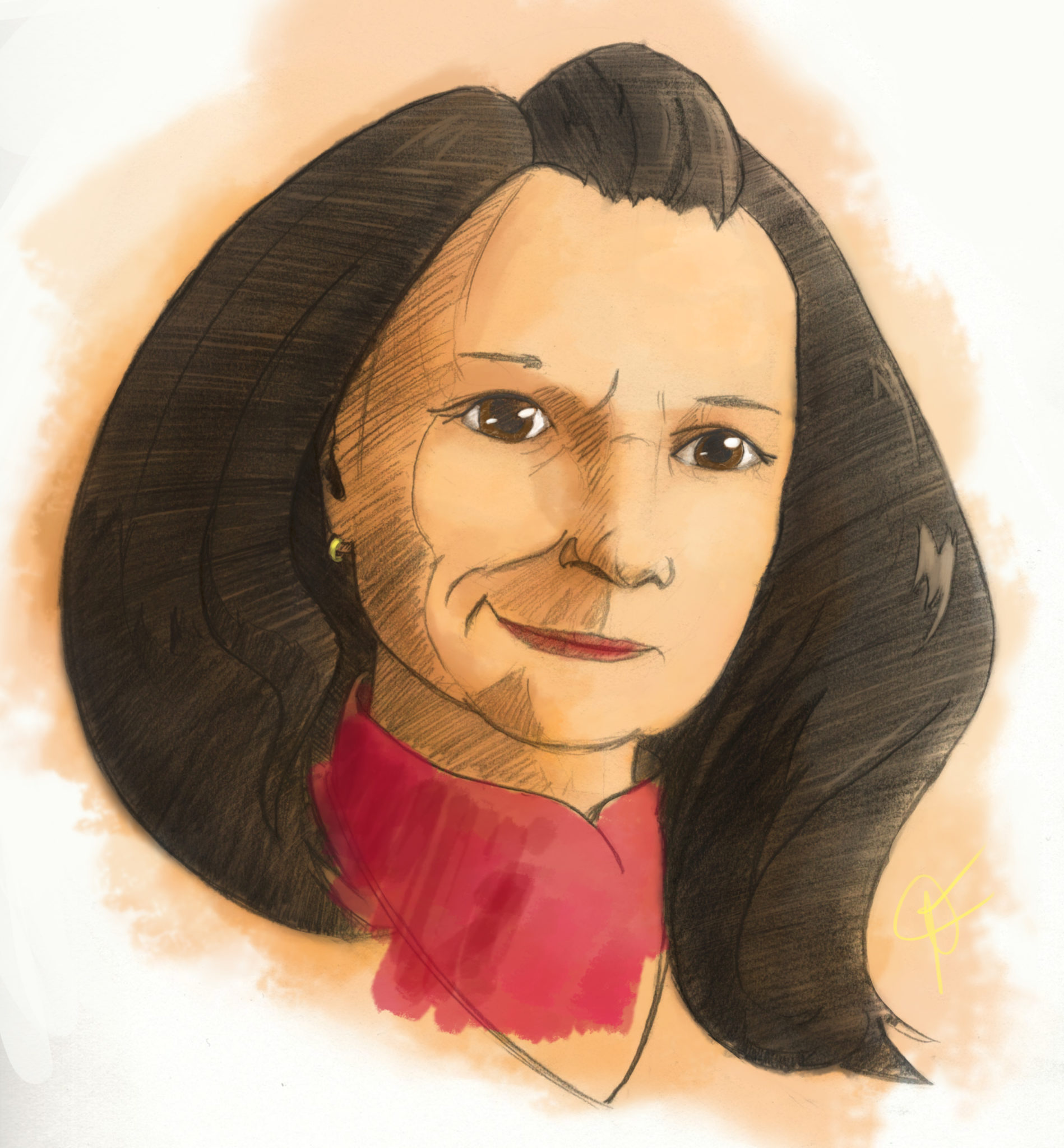 Maxine Bruhns: Bringing the World to Pittsburgh
February 28, 2022
My trips around Pittsburgh often bring me to Shadyside. If it's around lunchtime I usually find myself heading to the Shady Grove restaurant. As a result of my recurring visits, I've tried quite a few items on their menu. From appetizers to drinks and entrees, I have enjoyed everything I've ordered so far. Each visit, I receive great service and lose myself in conversation with my lunch companion, as the atmosphere is perfect for a relaxing lunch. Good food, a variety of mixed drinks, great service, and an enjoyable atmosphere are all factors that keep me coming back. Here's a few of the things I really like about Shady Grove.
Atmosphere and Service
The downstairs area is dominated with the bar and has mostly tall tables lining the wall. You'll notice an artistic metal tree that extends from the corner of the bar, up through the ceiling, and continues through the second floor. The strings lights that are wrapped around the branches give the place that special pizazz. While there is a full bar upstairs as well, the second floor is much more of a dining area than the 'bar area' atmosphere downstairs.
The lighting is kept low to give an intimate ambiance which allows you to feel comfortable and alone with your conversation and meal. A mix of eclectic music played softly throughout the restaurant. It was enjoyed by myself and my lunch companion who vary in age by more than 15 years.
The service has been wonderful every time. Most recently, I had the pleasure of being served by Chelsea and Rosemary—both very cheerful, attentive, and efficient. They really helped to create an all-around enjoyable experience.
Drinks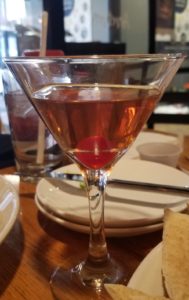 The Shady Grove has a large variety of beer, wine, and signature cocktails. I prefer cocktails and have tried several already. The Dark and Stormy is a rum drink and has a well-blended heavy flavor. The ginger beer provides a nice bite to the tropical looking cocktail. The Apple Cider Moscow Mule is a delightful spin on a classic. The lighter flavor of the cider helps to soften the bite of the ginger beer. A quick tip for any of my fellow tequila lovers: they will substitute the vodka for tequila if you ask. If you are looking for something lighter, two pleasant options are the Apple Cider Mimosa and the Blackberry Mojito. Although my favorite by far is the Classic Manhattan, up. There's something about this drink that makes me feel so "sophisticated." It might be the martini glass or maybe the cherry, but most likely it's the smooth taste, followed by a sweet burn trailing down my throat.
Appetizers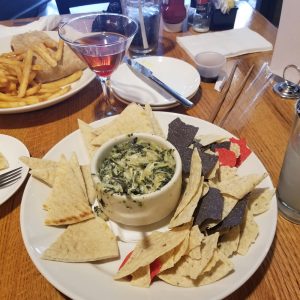 There is a wide range of appetizers to choose from. From chips and salsa to pork dumplings or bruschetta, there is a starter for everyone. The fried pickles come with an excellent cajun ranch dipping sauce, that is quite frankly, a bit addictive. The spinach artichoke dip is a classic thick and cheesy spread. It comes with a choice of tortilla chips and/or pita. Personally, I favored the pita.
Plantanos Fritos, or "flash fried plantains," are an interesting departure from the average bar appetizer. The crispy outside is balanced with a sweet and soft center. The pairing of mango salsa and habanero sauce provides the perfect topping to this appetizer. Though, my favorite so far is probably the Tuna Poke Bowl. The first time I ordered this starter they were unfortunately out of ahi tuna, but they were able to substitute mahi mahi with the same spicy jerk seasoning as their Spicy Jerk Mahi Mahi sandwich. For this appetizer, the mahi mahi was laid over an iceberg lettuce salad and finished with a tangy soy sauce dressing. The combination was phenomenal.
Meals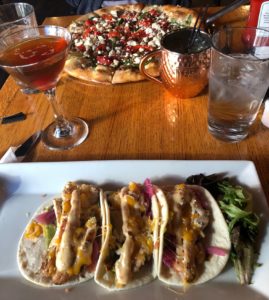 As far as entrees go, the biggest selection is sandwiches and burgers. The sandwiches come with a choice of ciabatta buns or as a whole wheat wrap, and a side of fries. The Caprese and Pesto sandwiches (on ciabatta) are two wonderful options for something lighter and milder. I opted to add chicken to the Caprese and found it to be more than filling. A combination of pesto, goat cheese, roasted tomato and mixed greens pairs perfectly with your choice of roasted turkey, portobello, or chicken for the Pesto sandwich.
While I enjoyed the Spicy Jerk Chicken wrap, I should note that they are not holding back the heat on this one. Jerk seasoning, pepper jack cheese, and habanero sauce mean that I will be asking for some extra water when I order this again. The Guapo Chicken tacos are delicious. The jalapenos add spiciness while the pickled red onions add a touch of sweetness.
Then, there are the gourmet pizzas, made with a signature hand-tossed sweet dough. The Goat pizza bursts with flavor from the spinach, bacon, roasted red peppers, goat cheese, and roasted garlic oil. A word to the wise: these are full-sized pizzas—perfect for two people or to have leftovers. Lastly, I will mention that Shady Grove has a large assortment of salads, as well—though I have yet to try any of them.