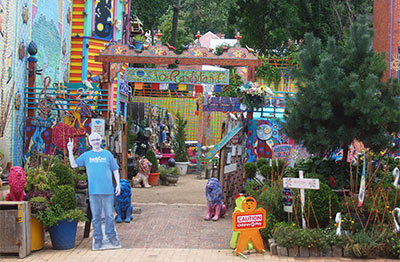 An adage advises to "bloom where you are planted." In the case of Randy Gilson, he not only bloomed but also painted, created, and transformed a drab, depressing neighborhood on Pittsburgh's North Side into a whimsical wonderland known as Randyland.
A little over 30 years ago, Gilson, 59, rented an apartment in the Mexican War Streets on the North Side. Gilson, who is a waiter, noticed how rundown and filthy the neighborhood was. Instead of thinking someone else should fix it, he began to clean up his little part of the world. Using his own funds, he started to clear the trash littering the vacant lots. He also planted dozens of mini gardens in them. He purchased $1,000 worth of whiskey barrels filled them with shrubbery and flowers then placed them throughout the area. The people living in the neighborhood began to notice his efforts and a sense of community pride bloomed along with the flowers he was sowing. Since then, he has planted more than 800 gardens, 50 vegetable gardens, and created eight parks.
While that is all noble and good, what really distinguishes Randy Gilson is his creation of Randyland. In 1995, an abandoned building at 1501 Arch Street in the heart of the Mexican War Streets went into foreclosure. Gilson toured the house and looked out of the dilapidated building's third floor window. He saw the beautiful view of Pittsburgh's skyline and knew he had to have the building. Maxing out a credit card, he bought the house for $10,000. During the home's 100 plus years, it has been a grocery store, a bar, a private club, and a Baptist church, but no one could have envisioned what else this home would soon become.
Pittsburgh's Kooky, Colorful Art Museum
One of six children, Gilson was raised by a single mom and was familiar with financial hardship and making the best of what's on hand. So when it came time to rehabilitate his new home, he looked to the refuse and junk he was finding on the streets as he was beautifying the area. He began to decorate his home with his finds, turning the three-story building into expressions of his art.
Outside, the house is painted a sunny yellow with numerous murals. To save money, Gilson purchases "mistake" shades of paint that do not sell at the store. He got five gallons of latex yellow for $10 and brightened the exterior of the old building. He also added cast-off pieces such as old street signs, lady bugs, butterflies, and gargoyles. Old metal lawn chairs, in a multitude of colors, are attached to the fire escape, making it look like a funky ski lift.
Gilson's creativity has spilled over into the courtyard where plastic pink flamingos and a collection of mannequin heads mingle with pink cement lions and rubber snakes under leafy banana trees. Walking into Randyland is like going through the looking glass; it is a riot of color and kitsch.
Randyland is one of those places that you have to experience to fully appreciate. Fortunately, Gilson's generosity goes beyond his penchant for rehabilitating his home and neighborhood, and he is eager to share his creation and his art. He makes the courtyard available to visitors most every day from 1-5:30 p.m. Admission is free, but donations are always welcome.
Visit Randyland online to learn more!