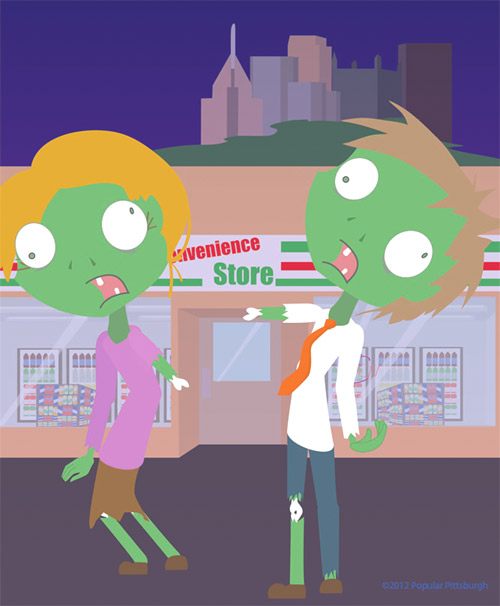 Pittsburgh Zombies
February 11, 2015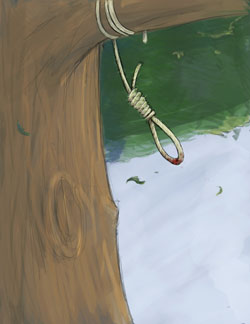 Dead Man's Hollow
February 11, 2015
After coming to Pittsburgh, many people fall in love with our city and never want to leave.  This seems to be true even after death!
You may not know it, but Pittsburgh is packed with poltergeists.  In 2007, The Associated Press and Ipsos conducted a poll and found that one in three people believe in ghosts.  Had they asked Pittsburghers, they might have been surprised at how many have a ghost story to tell.  Whether it is of a haunted house, spooky school, or frightening legend, tales abound of mysterious sightings and unexplained noises.
The authenticity of such claims may be debatable. However several local ghost stories are so well known and have been corroborated by so many witnesses. These ghosts have shed their dubious status to become local legends.
Pittsburgh's Haunted Aviary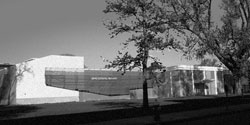 The National Aviary on Pittsburgh's North Side is not only home to more than 600 birds from around the world, it is also home to a lot of Boos!  The aviary was constructed on the site of what was once the Western Penitentiary.  From 1862 to 1864, the penitentiary served as a Union prison, housing Confederate soldiers during the Civil War.
More captives were taken in this war than in any other.  Therefore, the camps were cramped and unsanitary and many met their ends under poor conditions.  It is reported that the tortured souls of the deceased Confederate soldiers roam the halls of the aviary at night.
Haunted North Side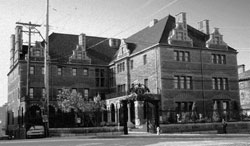 Supernatural spirits must like the North Side because two famous haunted houses are found there.  At one time this area was home to the Most Haunted House in America.  Once located at 1129 Ridge Avenue, this haunted hangout was the home of carpetbagger C.W. Congelier, his Mexican wife Lyda, and servant Essie.  In 1871, when Lyda discovered an affair between her husband and Essie, she stabbed him to death and beheaded the maid.
Even so, there was more to come.  In 1900, Dr. Aldoph Brunrichter bought the home.  The following year neighbors heard screams emanating from the house.  When investigators arrived, a decomposing body of a young woman was found in bed and five headless females were found in the basement.  Dr. Brunrichter had been experimenting on severed heads.  In 1927, a cataclysmic gas explosion destroyed the cursed home.  Although the house no longer exists, the spirits of those who perished in this house of horrors are said to roam the area.
Another haunted house is located on Ridge Avenue.  What was once the Byers-Lyon mansion is now Community College of Allegheny County's Byers Hall.  Alexander Byers was an industrialist and built his mansion there in 1898 for his extended family.  In 1902, Byers' four-year-old granddaughter perished after she crawled onto a skylight while her nanny slept and fell through to her death.  There have been sightings of the little girl running up the stairs and the sound of her crying.  Sightings of the nanny have also been reported.
Haunted Landmarks, Mansions, and Playhouses
The Cathedral of Learning.
The University of Pittsburgh's iconic landmark The Cathedral of Learning is said to be home to some supernatural entities.  With its imposing gothic architecture, shadowy interior and numerous nooks, what ghost wouldn't want to live there?  Many believe the unexplained antics that occur inside the cathedral are attributable to Mary Schenley, a prominent Pittsburgher who grew up near the site and donated much land to the city.
Clayton Mansion.
Another wealthy Pittsburgher rumored to lurk in the area is Helen Clay Frick, the daughter of industrialist Henry Clay Frick.  Helen was born at the family mansion, Clayton, in Pittsburgh's East End at the end of the 1800s.  The family eventually moved to New York. Helen always loved her childhood home, visiting and maintaining the mansion for decades.  In 1981 Helen Clay Frick moved back to Clayton. She remained there until her death three years later at the age of 96.  After that Clayton was opened to the public for tours, and security guards there report hearing someone walking around upstairs.  Perhaps it is Helen continuing to enjoy her beloved Clayton.
Hundred Acre Manor
When you visit Hundred Acre Manor you get 2 thrills:  they'll scare the bejesus out of you, and  you'll have that feeling you get when you know that part of the fees are going to support local charities.
Scare House and Phantom Fright Nights
If those legendary ghosts and haunted places don't induce a chill up the spine, then perhaps the numerous haunted venues that crop up around the area for Halloween might.
The ScareHouse is located in the Pittsburgh Mills Mall. It was voted the 5th Best Haunted House in America by Hauntworld magazine.  Using Hollywood-quality effects and a team of professionals, ScareHouse promises to terrorize even the bravest of visitors.
Phantom Fright Nights at Kennywood Park  will now be known as Phantom Fall Fest.  During weekends in October, the amusement park is open during the day for fall family fun, but once the sun goes down the park will be over run with vampires and monsters.
Whether you visit one of these attractions or not, don't be surprised if you encounter a ghost or ghoul somewhere along the way.  It seems that some grave-hearted residents love Pittsburgh so much, they've decided to spend eternity here.
By Janice Jane Palko