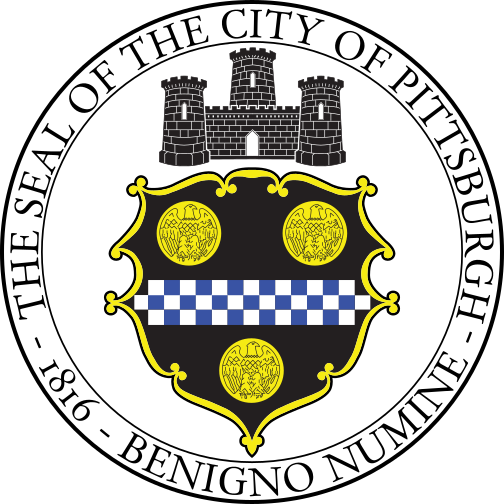 Pittsburgh's City Seal: The Black and Gold Source
September 30, 2019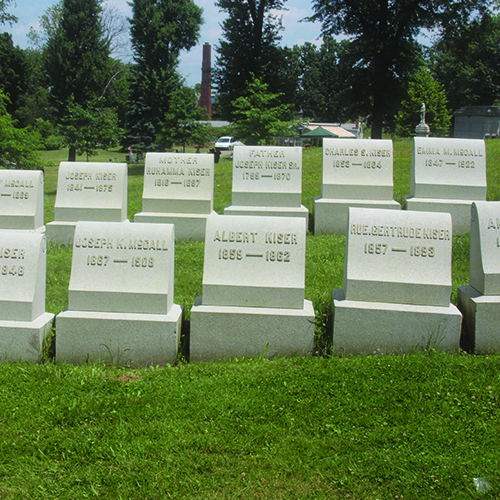 Plots of Famous Pittsburghers
October 14, 2019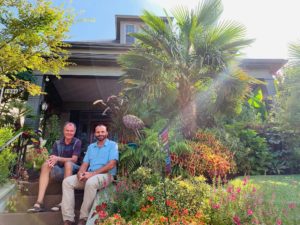 When Kevin Anthony Prall and his husband, Layne Bennett, bought their historic home in New Kensington, Pennsylvania, they knew there would be a lot of work to fix it up, but what they didn't know was that their hard work and beautiful garden would eventually earn them the title of America's Best Front Yard from Better Homes and Gardens.
A Botanical Paradise
Kevin and Layne's yard is more than a beautifully landscaped space; it's a groundbreaking homage to a tropical paradise. Palm trees jut from the zoysia grass lawn, while Basjoo bananas create a green glowing privacy screen next to their front porch. Other varieties of tropical plants peek out of any available nook or cranny. Walking along the sidewalk or sitting on their front porch is like being taken away on a Hawaiian vacation. When I mentioned that their home evoked Pasadena, California, Kevin said, "You're supposed to make your home what you dream it to be. Why not make it like a stay-cation?"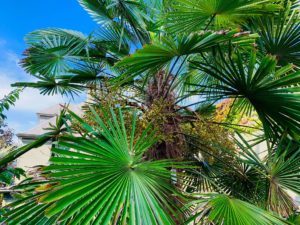 Labor of Love
Since 2011, Kevin has been working to cultivate his perfect yard by "zone-pushing" or growing tropical plants in non-tropical climates. Each fall, Kevin and Layne spend days getting their plants ready to weather the winter. Boxes are built around the palms, while insulation, Christmas lights, and other materials are used to keep them warm and safe. The other plants are put into the garage to hibernate until it's warm enough for them to come back out and recreate paradise.
Eyes on the Prize
How exactly did they win the contest? It was in June when Kevin's childhood friend Kathy told him that he needed to enter. He took her direction and followed the rules by posting a picture of his yard and explaining why it should win. On June 24, 2019, Kevin received an email letting him know that their yard had won the contest. The difficult task for them was to keep their victory a secret until Better Homes and Gardens announced the winner in September. The day their win was announced was a whirlwind, Kevin said, "It was like Field of Dreams that night. It was just car after car after car," and traffic on their street has kept a steady flow ever since. His post on FaceBook has received over 25,000 hits.
What makes Kevin and Layne's win so unique isn't merely the fact that they have a tropical hideaway in the heart of a former mill town, but instead it's their altruism. Kevin speaks of their winning America's Best Front Yard as a win, not for them, but for the region, a win for their town, and most importantly a win for the people around them, "We're a Rust Belt community…and I think this really will give people a little bit of hope. There are some great bargains and houses in New Kensington. Look at what we did! We think it's a great opportunity for New Kensington and to make things go forward."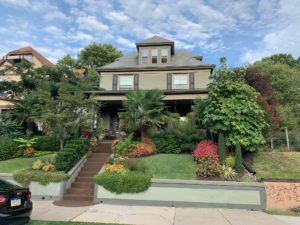 Letting Love Blossom
Kevin's love for their community and the region is palpable. While he talks about New Kensington and its challenges, he points out, "Every single town has those challenges. You just have to face it, deal with it, and do the best you can and start changing things. I truly believe it's making a difference." His desire to change the world around him and make it a better place comes from his dad, "My father always said, 'No matter where you are, do the best you can and make it the best you can.'" And that's precisely what he's done with the space he has. It's truly a diamond in the Rust Belt.
By Bianca Labrador