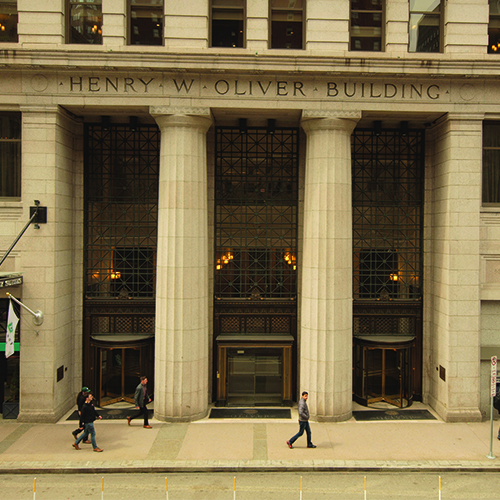 The Henry W. Oliver Building
July 15, 2019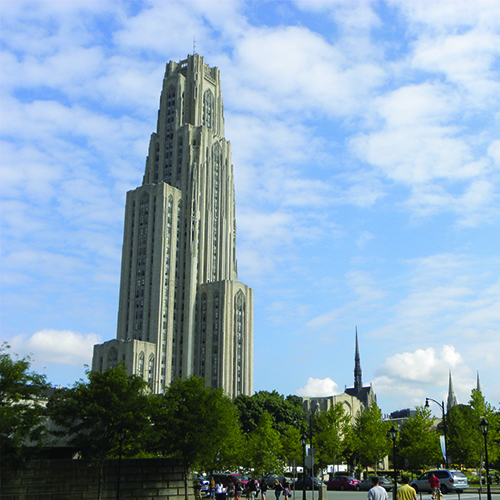 The Iconic Cathedral of Learning
July 29, 2019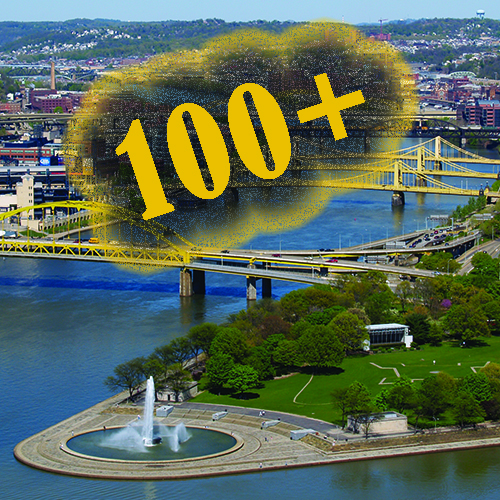 It is estimated that only 56% of businesses make it past their fifth year. How fortunate is Pittsburgh, then, that the city has numerous businesses that have been around for more than 100 years. Many of them are now large, multi-national corporations, but there are some smaller, lesser-known entities that have survived for more than a century that you should know. The following are some Pittsburgh-area companies that have stood the test of time.
Alcoa
Charles Martin Hall discovered the process for making aluminum and founded the Pittsburgh Reduction Company in 1888. In 1907, the company changed its name to the Aluminum Company of America, aka ALCOA. Still headquartered in Pittsburgh, ALCOA has grown into a global enterprise.
Austin's
Necessity is the mother of invention, they say, and that certainly is true of Austin's. Founded in 1889, James Austin concocted a solution for cleaning carpets at the request of his wife. Austin's Washing Solution, now known as A-1 Bleach, was born. Located in Mars, Austin's now has a wide variety of cleaning products.
BNY Mellon
Over its 100 plus years, the bank has conducted business under several different names. It was originally founded as T. S. Mellon & Sons' Bank in 1869 by Thomas Mellon and his sons Andrew W and Richard B. Mellon. Today, it is now known as BNY Mellon and provides global banking and financial services.
The Duquesne Incline opened in May 1877 as a means to connect Coal Hill–now known as Mt. Washington–to the city below. The funicular was designed and built by Samuel Diescher for Kirk Bigham and Associates. At one time Pittsburgh had four inclines; now only two remain, and the area came close to losing the Duquesne Incline in the early 1960s. Saving the day was The Society for the Preservation of the Duquesne Heights Incline, which organized to preserve the incline for future generations to enjoy.
Phone: 412.381.1665
Fisher Scientific
Founded in 1902 by 20-year-old Chester Garfield Fisher in Pittsburgh, Fisher Scientific was the first commercial supplier of scientific tools and equipment for the city's busy industries. Today, it is an international company, and its headquarters is in New Hampshire.
Heinz
Henry J. Heinz began his business in Sharpsburg in 1869 by selling horseradish with his business partner L. Clarence Noble. After facing bankruptcy in 1875, Heinz brought his brother John and cousin Frederick Heinz on board. One of their first products was Heinz ketchup. In 2013, Berkshire Hathaway and 3G Capital bought the company. In 2015, it merged with Kraft, but no matter who owns the company, Heinz ketchup is still the best.
Heyl & Patterson
Edmund W. Heyl and William J. Patterson founded Heyl & Patterson in downtown Pittsburgh in 1887. The company manufactures bulk transfer equipment for customers in a wide range of industries, including grain, steel, energy, ports, and mining & minerals. They also made the wheels for the Civic Arena roof, which enabled it to open and close, becoming the world's first retractable dome roof.
Kennywood Park
Kennywood Park was founded in 1898 on part of a family farm owned by Anthony Kenny known as "Kenny's Grove." The amusement park was established as a respite for millworkers and their families. it was called a "trolley park" because it was created by the Monongahela Street Railway Company and was easily accessed by trolley riders.
Mine Safety Appliances
A tragic mining accident spurred mine engineer John T. Ryan Sr. to dedicate his life to preventing further mining disasters, creating Mine Safety Appliances. He, along with colleague George H. Deike, consulted with noted inventor Thomas Edison to create the electric cap lamp. It drastically reduced mine explosions by 75 percent and began a company that now produces all types of safety equipment for various industries.
Original Oyster House
Open since 1870, the Original Oyster House in Market Square is the city's oldest bar and restaurant. Its delicious fish sandwiches and oysters have stood the test of time.
Pennsylvania Macaroni
In Pittsburgh, the name Sunseri is synonymous with Italian food. In 1902, brothers Augustino, Salvatore, and Michael Sunseri, natives of Sicily, came to Pittsburgh and began making authentic pasta. They soon expanded to selling Italian specialty products and cheese.
Pittsburgh Brewing Company
Pittsburgh Brewing was founded in 1861 by German immigrant Edward Frauenheim, and its signature brew is Iron City beer. The brewery was the first to introduce the snap-top can and resealable twist-off cap.
Pittsburgh Foundry & Machine
Founded in 1901 by 20-year-old William A. Smith, Pittsburgh Foundry & Machine is still located in Lawrenceville and manufactures ferrous and nonferrous castings.
PNC Financial Services
In 1845 the Pittsburgh Trust & Savings Company was founded. Due to the Great Fire of Pittsburgh that same year, it wasn't until 1852 that the bank was fully operational. The bank changed its name several times, but when Pittsburgh National Corporation merged with Provident National Corporation, the company shortened its name to PNC.
PPG
In 1883, PPG was founded by Capt. John B. Ford and John Pitcairn, who began the first successful plate glass factory in the country in Creighton. It was known then as the Pittsburgh Plate Glass Co. Today PPG has locations all over the world and offers a wide variety of products. The company is headquartered in the glass castle known as PPG Place in downtown Pittsburgh.
Reed Smith LLP
In 1877, Philander C. Knox and James H. Reed established the law firm of Knox & Reed in Pittsburgh, and at that time represented the city's leading industrialists–Carnegie, Frick, Mellon, Heinz, and Westinghouse. In 1881, Edwin W. Smith, George E. Shaw and Samuel McClay joined the firm. Today, Reed Smith is an international law firm with offices around the world.
Robinson Fans Company
Scottish immigrant Samuel B. Robinson came to Monongahela in 1863. With his background in the coal mining industry, he created many pieces of equipment that would aid in the extraction of coal. As time passed, the company began to specialize in mining ventilation and would move to Zelienople. Today, Robinson enjoys its reputation as leader in the manufacture of hi-temp fans.
Strassburger McKenna Gutnick & Gefsky, Attorneys at Law
Since 1919, Strassburger McKenna Gutnick & Gefsky has been representing businesses and individuals. The firm's tri-fold approach of being committed to clients, dedicated to each other, and devoted to the community has given it a sterling reputation. Strassburger McKenna Gutnick & Gefsky has three locations in the area: Beaver, Greensburg, and downtown Pittsburgh.
U.S. Steel
J. P. Morgan and Elbert H. Gary founded U.S. Steel in 1901 by merging Carnegie Steel Company with Federal Steel Company and National Steel Company, growing into the nation's largest producer of steel. The company is headquartered in the U.S. Steel Tower, the tallest building in downtown Pittsburgh.
Robert Wholey & Company
Wholey's was founded in 1912 in McKees Rocks by Robert L. Wholey and sold poultry, meats, and sausages. In 1960, Wholey's expanded to add fresh fish. Now located in the Strip District, Wholey's is one of Pittsburgh's iconic food purveyors.
When Antonio Zambelli came to New Castle in 1893, he brought with him a little black book that contained his family's secrets for making fireworks. More than 124 years later, Zambelli fireworks are the centerpiece of any celebration. They have been featured at inaugurations, canonizations, and memorial services. They are always a crowd favorite and the grand finale to any festivity.
By Janice Lane Palko