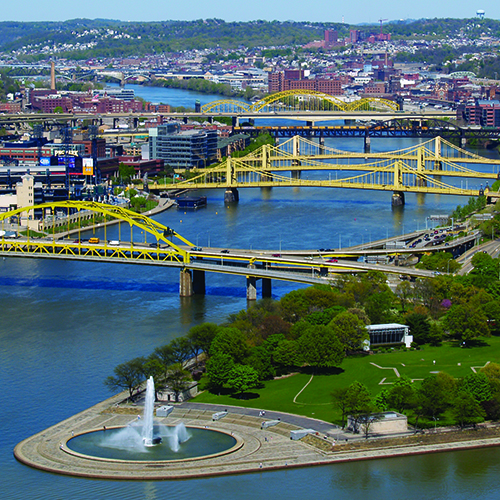 Pittsburgh Fountains: There's Something in the Water
August 19, 2019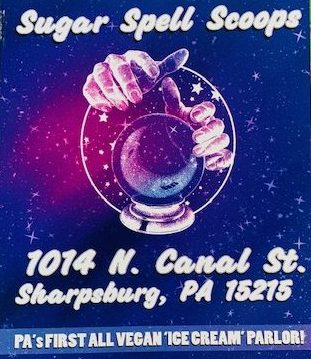 This Ice Cream Will put a Spell on You
September 9, 2019
Located on the Southern region of the Laurel Ridge, Ohiopyle State Park consists of over 20,000 acres of rugged beauty and small town charm. The added benefit of this local getaway is its close proximity to Pittsburgh, as its only an hour and a half drive. If you aren't sold already, find out 9 reasons you need to travel to Ohiopyle- better start packing!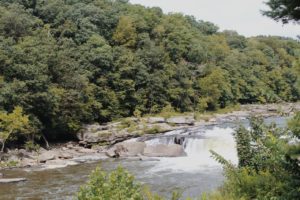 1. Great Hiking Trails for the Whole Family
Ohiopyle offers a variety of trails at different skill levels so the whole family can enjoy hiking! Jonathon Run Trail s 1.7 miles and offers easy hiking for those less experienced or those who are looking to take a relaxing stroll. Avid hikers and more experienced outdoorsmen can opt for the Baughman Trail, which encompasses 3.4 miles of steep, rocky terrains and a spectacular view of the Youghiogheny River Gorge.

2. Views that'll Make You Swoon
Ohiopyle is the home to some incredible view and outlooks of the Youghiogheny River Gorge. Walk along any of the trails and take in the emerald greenery of the trees, the rich variety of colors  blossoming on wildflowers, and the sparkling water roaring in the river. The Visitor Center also features a floor to ceiling window that gives a unique perspective of the water.
3. Ice Cream!
There are quite a few ice cream shops around Ohiopyle's town center. Each one offers a bunch of different flavors that will have your mouth watering! Falls Market Restaurant and Inn features a rustic and vintage ambiance with an adorable ice cream stand in the store. The Ohiopyle Old Mills General Store also has plenty of ice cream choices!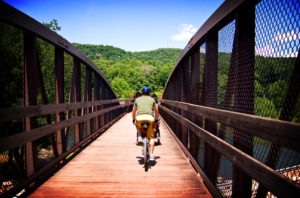 4. Bicycling for Everyone
Biking along the multiple trails at Ohiopyle makes for a great way to see all the beauty
of this State Park. There are trails for every skill level and the small-town charm of Ohiopyle makes it easy to bike around the main street. Also, the Youghiogheny River Trail, which makes up a portion of the Great Allegheny Passage, connect Pittsburgh, Pa and Cumberland, MD. That is quite the ride!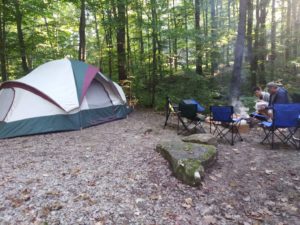 5. Camping Sites
Ohiopyle has a variety of different camping site for different needs. The Kentuck Campground features full-functioning toilets, showers, as well as electrical hookups. For those who decide to camp here, the lots also have fire pits, a picnic table and free parking. If camping in a tent is not your style, Ohiopyle also offers cottages that sleep up to five people!

6. Rafting the Rapids
Channel your inner adventurer and voyage the Youghiogheny River Gorge as you whitewater raft. You can opt for a private trip or a guided trip. Remember, safety is the number one priority, so make sure to educate yourself and others before engaging in this activity!
7. Fishing Fun!
The Youghiogheny River provides a great locale for trout fishing. Ohiopyle makes sure that sections of the river are appropriately stocked with fingerling trout for all visitors to enjoy! So grab your tackle box and a can of works!
8. Time to Unwind
In today's world of endless connectivity, where technology is always within arm's reach, it is liberating to unplug and connect with nature. Ohiopyle has a beautifully diverse landscape that allows visitors to hike, bike, and unwind from the doldrums of everyday life.
9. Connect with Family
Enjoy the beauty of Ohiopyle State Park with your family and create memories that last a lifetime. With activities for every member of the family, across every skill level, you will be sure to make Ohiopyle a regular getaway spot.