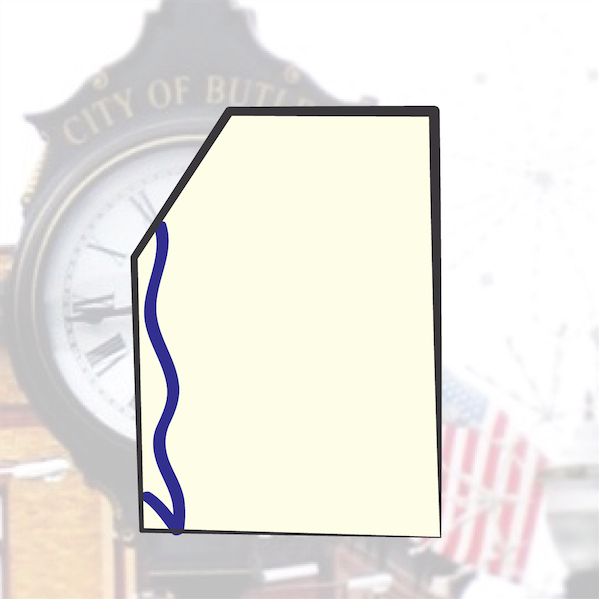 What's in a Name? – Butler County
April 26, 2021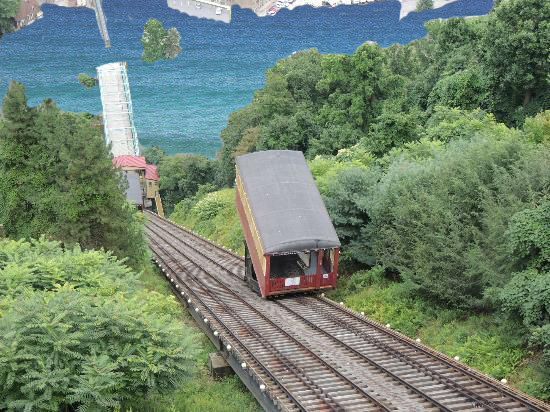 The Johnstown Flood of 1889
May 17, 2021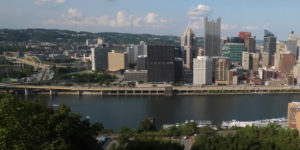 Walking Grandview Avenue is a great way to get to know Pittsburgh while enjoying some mild exercise. The distance from the Monongahela Incline to the end of Grandview Avenue is a little over a mile. In that mostly level trip, you'll see why beautiful photos of the city are relatively easy to acquire here. As an added bonus, the views are truly magnificent in person!
First Half
During the first half of your journey, there are three observation decks. Most people will take a few minutes to step out onto at least one of these mushroom shaped platforms to take photos of the city, a few selfies, or just admire the view. It's sort of a small thrill trusting your safety to these structures, and I guarantee that if you spend enough time on this popular Pittsburgh roadway, you'll see people who decide to stay on the main sidewalk regardless of what others in their group do. But you have my guarantee that these decks are at least 99% safe.
Weekdays are perfect for folks that want the avenue to themselves. If you're more of a people person, I've found Sundays to be good and Saturdays to be the best. On Saturday afternoons, you may come across a wedding party using one of the platforms for photos or performing the ceremony. Tour companies can be heard giving their clients always interesting and usually correct information about the history and culture of Pittsburgh. By the number of different languages I've heard spoken along Grandview Avenue, I feel this must be a top spot for tourist coming from around the world.
Second Half
Halfway through your walk at the intersection of Grandview Ave. and The McArdle Roadway, your walk will become a little more strenuous. At this point, you'll have to put up with a slight incline for the next tenth of a mile. In addition to walking uphill, you'll be unable to see the city skyline for about three-tenths of a mile, unless you know someone that lives along this part of Grandview Avenue. The homeowners along this stretch are the only ones who have a grand view here.
The row of private houses ends, and you pass the condos at 1000 Grandview Avenue. The front of the building appears to be a simple design as you walk by, but I'm sure the view of the city from the balconies at the rear of this building is next to priceless. I always imagine that it would be the perfect spot to enjoy your morning coffee or observe the Fourth of July fireworks.
Detour
Soon after passing 1000 Grandview, you'll pass by a Pittsburgh landmark; The Le Mont Restaurant has been there since 1960. Next, you'll come to the upper station of the Duquesne Incline. The gift shop at the Duquesne Incline is the only spot along Grandview where you can purchase your much-needed Pittsburgh souvenir items. Besides that, they have an observation deck that gives you a great view of the city. If you want to take a quick ride down and back up on this 1878 vehicle, I'm sure you would consider it time well-spent.
Back on track
After leaving the incline, you have another slight hill to climb. Halfway up this hill, you'll start gaining your view of the city again. At the end of the hill, you encounter a statue of Guyasuta, the Seneca Native American, and his contemporary, George Washington.
Across the street from Guyasuta and Washington, sits the Monterey Bay Fish Grotto restaurant. Your tour of Grandview Avenue is almost over with just a tenth of a mile to go. Now that you've reached the point where the road veers to the left into the Duquesne Heights neighborhood, take a minute to look at the view of this city from this vantage point and compare it to the view of the city you had when you started your journey. I usually feel like I'm looking at two different cities.
A Great Ending
I think you'll find this walk to be time well-spent. If you want to change this walk along Grandview Avenue from a good experience to a great one, at the end, I would make a reservation at one of the restaurants up here with a table by the window. I don't know what entrée I'd order or what adult beverage would accompany it, but I do know that there is more to life than just walking!