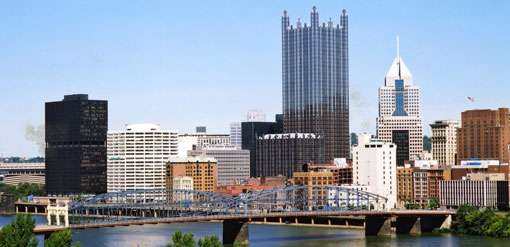 A Pair of Pittsburgh Renaissances
February 11, 2015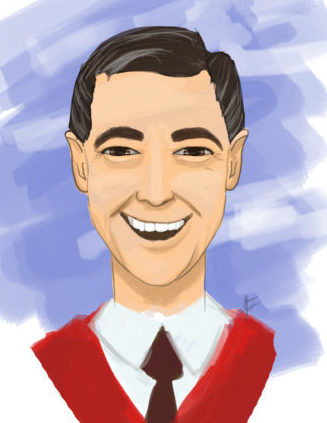 Mr. Rogers: Pittsburgh's Beloved Neighbor
February 11, 2015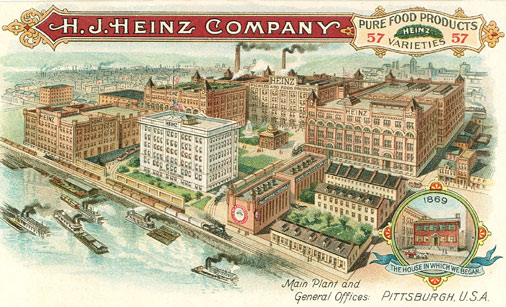 The Heinz factory was famous for its cleanliness.  In fact, Henry insisted upon it throughout the entire plant.  Women were supplied with uniforms. There were showers and changing rooms on the premises for employees to use.
Tours
In 1899 Heinz invented the "factory tour" himself. This allowed people to watch the process of making his products. This turned out to be a brilliant publicity move.  It was so successful that other companies started to do the same thing once they saw the public's reaction.  Each tour took the visitors past the can making department to the soup filling machines to the pickle bottling tables.  At the end of the tour the visitors were given samples of Heinz products to take home as well as a pickle pin. In 1972 much of the processing became automated. This caused the tours to discontinue as the automation made it so there was little that the visitors could see.
Good Character and Fair Treatment
One of Henry's favorite sayings was, "Make all you can honestly; save all you can prudently; give all you can wisely." He would place inspirational advice throughout the factory. Heinz wanted to provide the public with tasty products at a reasonable price. It was a principle he never deviated from. He was careful to live by his mottos.
In the sales room, "the ruling principle of our business must be to secure the permanent satisfaction of the consumer and the full confidence of the trade," was framed and on display. Heinz did not quote prices or sales figures to his salesmen. He focused on character. He once said, "Rather a man with 50 percent ability and 100 percent character than a man with 100 percent ability and 50 percent character."
Heinz became well-known for how fairly he treated his employees. He treated his employees the way he wished to be treated. They were often provided with conditions that were better than their own homes. His mother's favorite life rule was, "Always remember to place yourself in the other person's shoes."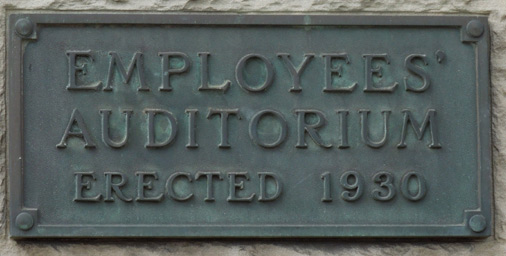 That was a rule he tried to put into practice in his own life. Heinz provided his employees with a gymnasium, swimming pool, rooftop garden, and library. They also had an auditorium for gatherings and free entertainment. Free sewing and cooking classes, carriage rides through the city's parks and boat rides on the rivers in the summer months were also enjoyed by his employees. He even kept a manicurist on the staff for the employees to see. Henry decided early on in his business career that "no one in my employ shall ever have his wages reduced." That was a rule that he was able to keep.
Henry was loved and respected by those who worked for him. He knew many of the employees by name.  He would try to make new employees feel right at home. At Christmas time he remembered each of his employees. He would visit the sick himself or send someone in his place. New parents would receive a little silver spoon from him when they had a new child. If someone was having financial difficulty, it was not uncommon for him to quietly find a way to alleviate that stress. He kept a company doctor, nurse and dentist for employees to visit free of charge. Once when he returned from an overseas trip, he was greeted by hundreds of American flags being waved from the windows of the factory as his car drove up to the plant.
Heinz's employees felt the same level of fondness and appreciation for him. Henry viewed his factory and employees not as a large web of machines and workers but as a large and happy family. He worked hard to retain the employees he had. In turn his workers work hard for him. Any disputes were settled in a positive way. Other companies in Pittsburgh were known for their strikes and union activity, which sometimes turned violent. There was never a time when his employees went on strike during his lifetime.
Henry didn't just treat his employees fairly, he tried to be fair in his business dealings as well. He learned at a young age from his parents to be thrifty and not greedy. Being raised to not be wasteful with materials, opportunities or time was helpful to his success. He felt that every profit should be fairly earned. One of his famous mottos that is still used by the Heinz company today is "Deal with the seller so justly that he will want to see to you again."
A Big Step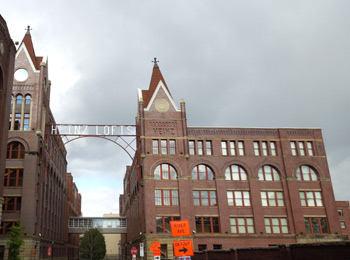 In 1890 construction of the Heinz factory was started. It was located on the North Shore of Pittsburgh along the Allegheny River. This factory was connected to the Pennsylvania, the Baltimore & Ohio and the Pittsburgh & Western railroads. This was how he was able to ship his products all across the country. Today the factory buildings are known as the Heinz Lofts. They are beautiful apartments for rent along the river's edge and with a view of the city's skyline.
Heinz saw a need to have fresh produce from which to make his products. He began to grow produce on company fields. It also purchased produce from independent farmers. The greenhouses Heinz had were also used for growing experimental crops and developing new seeds.
Restoring Public Trust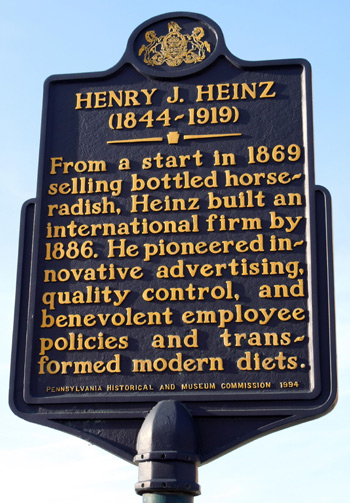 Prior to the early 1900s there were no laws to regulate the food manufacturing industry. Manufacturers often put in preservatives and fillers that were not in the best interest of the public. When this became widely known there was outrage. Dr. Harvey W. Wiley was a chemist in the Department of Agriculture. He made it his mission to find and publicize those manufacturers who were adding harmful chemicals to their products. Many food companies thought that federal interference in the food industry would not be good for business. Heinz disagreed. Seeing a need to restore public trust in the food industry, Henry and his son Howard pushed ahead against many in the processed food business to gain passage of the Pure Food and Drug Act in 1906.
He offered his support to Dr. Wiley and President Roosevelt in their quest to clean up the food manufacturing industry. In addition to that, in 1900 Heinz added a chemistry lab that was staffed with "food technologists" (bacteriologists, microscopists and other scientists). It worked to improve the flavor, appearance and nutrition of the Heinz food products. Quality control was a high priority. It insured that high-quality produce was used in the products. Additionally it secured that the recipes and procedures in preparing the foods were consistent. The cleanliness of the food preparation process was required to be top notch. This all assured that the finished products always looked and tasted the same.
By Diane Gliozzi