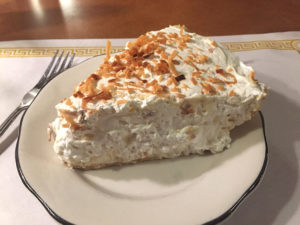 My wife and I found ourselves traveling hungry along Route 28 near Millvale discussing dinner options when The Grant Bar and Restaurant entered the conversation. Three minutes later we were walking through the bar section of this 85 year old establishment on our way to a dining area. When our waitress told me that their famous Homemade Turtle Soup was only available on Friday and Saturday, I was disappointed. This feeling disappeared after she took a minute to describe the other great homemade options that were available.  I'll have the turtle soup another day.
Except for seeing Liver and Onions on the menu I liked everything about the place. It was warm and rustic; the servers were helpful and friendly.
After studying the menu I was considering the Rocky Mountain Rainbow Trout. Then I saw an order of Jumbo Gulf Shrimp being served and my mind was made up. I had the Cole slaw and pickled beets for sides. A few rolls, a glass of water with lemon and a beer completed my meal. The food was tasty and satisfying.  The beer was okay, but that's what happens when you order anything out of your comfort zone.  Sometimes you win and sometimes you end up with a beer that's just okay. Carol had the Baked Cod Almondine with a side of mixed vegetables and a bowl of pumpkin soup.  While she didn't share, she assured me that it was a really good meal.
The portions were great. Big enough to end my hunger but not so big that I had to take part of our meals home and wonder how they would taste the next day when we tried to heat them up. And to make things better the portions were sized so that desert could be considered. We decided on a piece of coconut cream pie with two forks. At first taste the name of this piece changed to Coconut Pie at the Grant Bar and Restaurant.  Our waitress told us that their pies were made in their kitchen just like you would make them at home.  If you are a big fan of the pies you pick up at your local supermarket, you may want to stay away from the pies produced in this Millvale kitchen. You'll still buy the supermarket pies but you'll find yourself comparing them to the Grant Bar standard of home made. I don't know of any supermarket pies that can stand up to that competition.
I won't name the beer I had. Just because I didn't care for it doesn't mean that it shouldn't be one that you enjoy.  I look forward to coming back to the Grant Bar and Restaurant. I don't know what my entree will be (it won't be liver and onions), but I do know I'll order a different beer, my appetizer will be turtle soup, and they'll be bringing me pie for desert.
By: Tom Pollard