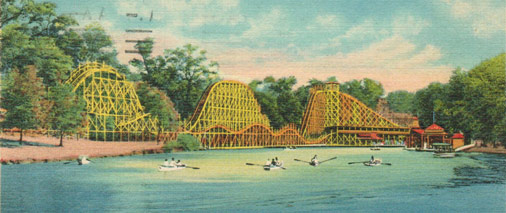 West View Park
November 24, 2014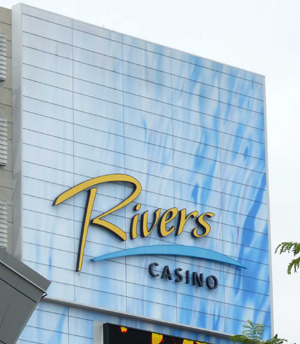 Gambling: It's the Name of the Game
November 24, 2014
Pittsburgh is "lucky" to be located close to so many casinos. Why, we even have one in our own back yard! But if you feel like venturing to another locale to try your luck, you don't have to travel very far. The following is a list of gaming venues categorized by distance. All are less than 275 miles away. Some are suitable for a day's outing, while others may be just the thing for an overnight jaunt or weekend getaway. The venues range from new to historic landmarks, Canadian to domestic, and small to opulent. Good luck!


Located on Pittsburgh's North Shore in one of the city's most picturesque settings, the Rivers Casino provides beautiful views of the city's skyline and the river. The casino features slots, table games, and poker, and has five restaurants from the upscale Andrew's Steak & Seafood to the casual Ciao. There are several lounges offering entertainment, as well as many excellent hotels nearby. It is situated within walking distance of numerous attractions in Pittsburgh.
The Meadows Racetrack & Casino (26 miles)
Just 45 minutes south of downtown Pittsburgh in Washington, Pennsylvania, is The Meadows Racetrack & Casino. Since 1963, The Meadows has been synonymous with harness racing. Today, The Meadows also boasts a casino with slots, video poker, table games, and poker. In addition, it has five dining spots as well as two entertainment venues: Silks and Pacers. If you win big, you can head over to the nearby Tanger Outlets and do some serious shopping.
Mountaineer Racetrack & Gaming Resort (48 miles)
Located in Chester, West Virginia, in the state's panhandle, Mountaineer Racetrack & Gaming Resort is less than an hour's drive from downtown Pittsburgh and is a one-stop destination for fun. It features a hotel, luxury spa, fitness center, golf course, fine dining, and thoroughbred horseracing. It also attracts headliner entertainment. The casino has slots, a variety of table games, and poker.
Wheeling Island Hotel Casino & Racetrack (60 miles)
At Wheeling Island, racing has "gone to the dogs." Live greyhound racing is offered in addition to gaming: slots, table games, and poker in the casino. At Wheeling Island, you will find numerous dining options and bars. The hotel offers 151 rooms that keep you close to the action.
Lady Luck Casino (70 miles)
Nemacolin Woodlands Resort has been a luxury vacation destination for years, and now it boasts the Lady Luck Casino. In addition to all the amenities and fine dining offered at Nemacolin, you can now test your luck at the casino, which is only available to the resort's guests. It offers slots, video poker, and table games.
ThistleDown Racino (120 miles)
Pittsburghers are used to coming home from Cleveland as winners of football games, but they may be as lucky when gambling there at ThistleDown Racino. Offering horse racing, Video Lottery Terminals, and The Diner for grabbing a bite to eat, ThistleDown holds daily races.
Presque Isle Downs & Casino (125 miles)
Located in Erie, Pennsylvania, Presque Isle Downs & Casino offers slots, table games, and poker, as well as horse racing. There are numerous places to eat from fast food to fine dining, and The Clubhouse features top entertainers.
Horseshoe Casino (133 miles)
Horseshoe Casino, located in downtown Cleveland, opened in 2012 and was the first casino in the state of Ohio. It has slots, video poker, table games, and traditional poker. It offers a variety of restaurants, including a buffet and three other dining spots. In addition, Horseshoe Casino has partnered with restaurants all over town so that casino players may exchange their reward credits for comps that can be used to dine in these affiliated restaurants.
Seneca Allegany Casino & Hotel (199 miles)
One of the three casinos in Western New York run by the Seneca Nation of Indians, Seneca Allegany is located in Salamanca, New York, just over the Pennsylvania border north of Bradford, Pennsylvania. The casino has slots and table games. The hotel has 413 rooms and suites, a spa, and a salon. There are six restaurants in addition to two entertainment venues: the 2,400-seat Events Center and the more intimate Casino Bar.
Seneca Buffalo Creek Casino (214 miles)
Located in the heart of downtown Buffalo at its Inner Harbor, Seneca Buffalo Creek Casino debuted in August 2013. It offers bingo, blackjack, slots, poker, and video poker, and three dining venues.
Hollywood Casino at Penn National Race Course (217 miles)
The glitz and glamour of Tinsel town is resplendent at Hollywood Casino. Located in Grantville, Pennsylvania, minutes from Harrisburg and Hershey, Pennsylvania, Hollywood Casino offers slots, table games, and poker in addition to horse racing Wednesday through Saturday. There are five different restaurants and the Hollywood on the Roof stage is central Pennsylvania's most popular venue for live musical entertainment. The casino also has a Hollywood Memories Museum that showcases memorabilia from great films like Forrest Gump and Cleopatra, and costumes worn by the likes of Marilyn Monroe, Elvis Presley, and Elizabeth Taylor.
Seneca Niagara Casino & Hotel (239 miles)
Located on the American side of Niagara Falls in Niagara, New York, Seneca Niagara Casino & Hotel is the largest hotel in Western New York boasting 604 rooms and a spa. In addition, there are nearly a dozen places to eat as well as four bars and lounges. The casino offers table games, slots, and tournaments as well as The Mezz, where 18+ players may play slots. The Seneca Niagara Casino & Hotel contains three entertainment venues attracting top entertainers from around the world.
Mardi Gras Casino & Resort (239 miles)
Mardi Gras Casino & Resort brings Las Vegas to West Virginia. Located in Charleston, the Mardi Gras offers a deluxe hotel, casino with slots, table games, poker, and MegaHits, a multi-jurisdiction video lottery game available only in select venues in Delaware, Rhode Island, and West Virginia. Mardi Gras also boasts stunning Vegas-style showgirls.
Niagara Fallsview Casino Resort (240 miles)
Located in Niagara Falls, Ontario, Fallsview Casino Resort is an entertainment complex with gaming (slots, table games, and tournaments), as well as more than a dozen dining venues. Each of the Fallsview Resort Hotel's 374 rooms overlook the breathtaking falls. The hotel also offers a spa and fitness center and features headline entertainers in its 1,500 seat theatre. Since it is located in Canada, you will need appropriate documentation to cross the border.
Casino Niagara (242 miles)
Casino Niagara is located on the Canadian side of Niagara Falls in Ontario. It features slots, table games, and tournaments. Perhaps you'd like to put a little money on your favorite team? At Casino Niagara, you can do just that by wagering on football, hockey, baseball, and college basketball. It also has four on-site dining venues from a steakhouse to a buffet. A trip to the falls is a great getaway, but you will need proper documentation to return to the U.S.
The Greenbrier (259 miles)
Billed as America's Resort, The Greenbrier has been entertaining guests since 1778 and is a National Historic Landmark. Located in White Sulphur Springs, West Virginia, The Greenbrier boasts a casino among its many amenities, which is described as Monte Carlo meets Gone With the Wind. In addition to the slot machines, table games, and poker, Casino Shopping and Dining and Entertainment create the ultimate in luxury gaming.