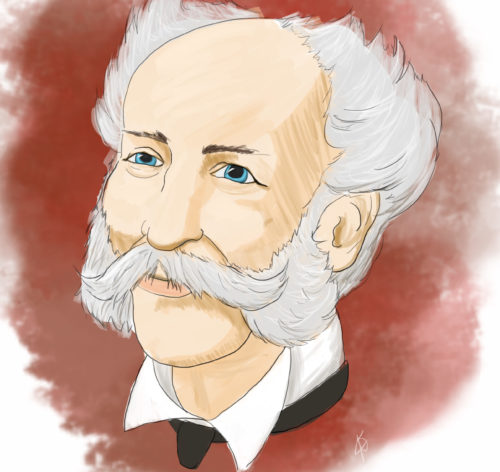 H. J. Heinz : The Man
February 11, 2015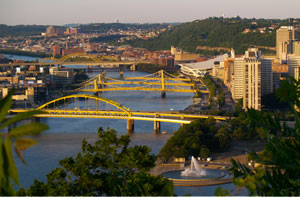 Pittsburgh: Bursting with Bridges
February 17, 2015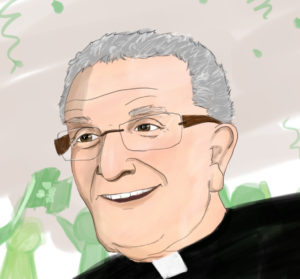 When author Thomas Wolfe titled his 1940 novel "You Can't Go Home Again", he could have never envisioned Bishop David A. Zubik. Bishop Zubik was born in the Pittsburgh area and defied Wolfe's wisdom by returning home to Pittsburgh's welcoming Roman Catholic residents in 2007 as their twelfth Bishop.
History of Bishop Zubik
David A. Zubik was born in Sewickley on September 4, 1949. He grew up in Ambridge and attended St. Stanislaus Elementary School and St. Veronica High School. He credits his family, especially his mother, for his spiritual upbringing. He entered St. Paul's Seminary in Pittsburgh. In 1971 he received an undergraduate degree from Duquesne University. He then earned a degree in Theology from St. Mary's Seminary and University in Baltimore, Maryland.
Bishop Vincent M. Leonard ordained him a priest on May 3, 1975. until July 24, 1980 he served as Parochial Vicar at Sacred Heart Parish in Shadyside. He was then named Vice-Principal of Quigley Catholic High School in Baden. In addition, he served as Chaplain to the Sisters of St. Joseph Motherhouse and the students at Mount Gallitzin Academy. While serving in those capacities, he also earned a master's degree in Education Administration from Duquesne University in 1982.
In 1987, he was appointed Administrative Secretary to Pittsburgh's Bishop Anthony Bevilacqua. In 1988 Bishop Donald Wuerl, now Cardinal Archbishop of Washington, D.C., was installed as Pittsburgh's Bishop. Fr. Zubik was then named Administrative Secretary and Master of Ceremonies to Bishop Wuerl.
He assumed the positions of Diocesan Director of Clergy Personnel in 1991, overseeing the priests in the Pittsburgh diocese. In 1995, Fr. Zubik was appointed Associate General Secretary and Chancellor of the Diocese of Pittsburgh. He was made Vicar General and General Secretary in 1995. This made him responsible for the administration of diocesan central offices. In addition, he served as the Chaplain to the Sisters of the Holy Spirit in Ross Township.
Ordained
On April 6, 1997 he was ordained an Auxiliary Bishop for the Diocese of Pittsburgh. On October 10, 2003, Pope John Paul II named Bishop Zubik the eleventh Bishop of the Diocese of Green Bay. Bishop Zubik was installed on December 12, 2003. He served as the shepherd for Green Bay's 346,000 Catholics who resided in six counties.
While serving in Green Bay, Bishop Zubik instituted programs to address misconduct by clergy and others in ministry. Every year during his tenure as Bishop there, he was found to be in full compliance with the national standards for creating and maintaining safe environments for children during audits conducted on behalf of the National Review Board established by the United States Conference of Catholic Bishops.
Appointed Bishop of the Diocese of Pittsburgh
Pope Benedict XVI appointed Bishop Zubik the twelfth Bishop of the Diocese of Pittsburgh on July 18, 2007. This returned him to his hometown to serve the diocese's 673,000 Roman Catholics, and more than 200 parishes in its six counties.
In addition to those responsibilities, he serves on six committees of the United States Conference of Catholic Bishops: the Administrative Committee, the Committee on Priorities and Plans; Committee on Domestic Justice and Human Development, the Subcommittee on the Catholic Campaign for Human Development, as a Consultant to the Committee on Divine Worship, and as the Chair for the Committee on Clergy, Consecrated Life and Vocations.
Bishop Zubik is the fifth Bishop of Pittsburgh to have been born in the area, joining the ranks of Bishop J. F. Regis Canevin, Bishop Hugh C. Boyle, Bishop Vincent M. Leonard, and Cardinal Donald Wuerl.
Since his installation, Bishop Zubik has had highs and lows, and has had to navigate some thorny issues while gaining the respect and admiration of his peers and of those in his care.
In September of 2009, Bishop Zubik sold the 39-room Bishop's mansion, which was donated to the diocese in 1949 from David McCahill, a prominent attorney and civic leader. Bishop Zubik lived there for two weeks before moving to a two-room apartment at St. Paul's Seminary in Crafton. A spokesmen for the diocese said the Bishop did not wish to live there. The mansion sold for $2 million.
On December 7, 2009, the Susan Zubik Welcome Center in Downtown Pittsburgh was opened and named in honor of Bishop Zubik's late mother. Located at the Catholic Charities offices on Ninth Street, the commemorative plaque on the wall honoring her states: "In recognition of a woman who always shared her kindness with strangers when they were in need of comforting."
Bishop Zubik's Honors
In 2010, Bishop Zubik was honored by Rodef Shalom Synagogue with it's first ever Pursuer of Peace award. The award was created to recognize an individual committed to good works in the community.
Though a man of peace, he is also a defender of the faith. He made national headlines when he lead the Pittsburgh Catholic Diocese's challenge to the Affordable Care Act mandate that Catholic institutions provide contraceptives to its employees.
Several members of our staff have met Bishop Zubik over the years. One happened to attend Philosophy and Religion classes with him during the 1960's and found him to be "a warm, sincere, and energetic person, and through the years that has never changed."
A few years ago, another member of our staff attended a Catholic men's conference at Duquesne University's A. J. Palumbo Center. Throughout the conference, the Bishop was extremely busy, attending various sessions. At the end of the conference, the Bishop left early and our staff member thought, "Well, he must be exhausted and has left." To his surprise, when he was exiting the Palumbo Center, Bishop Zubik was standing there shaking hands with everyone as they left. He shook thousands of hands that day.
Like a true Pittsburgh native, Bishop Zubik is kind, strong, energetic, and a faithful leader who is an advocate for peace and justice for those in his spiritual care, and for the greater community in which he lives and serves.