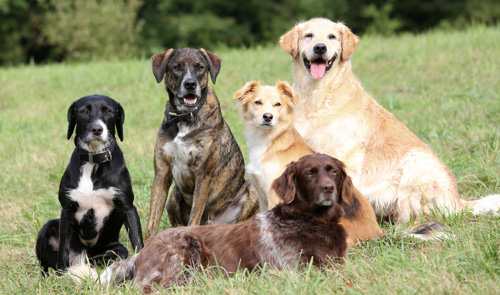 Pittsburgh is Going to the Dogs
February 11, 2015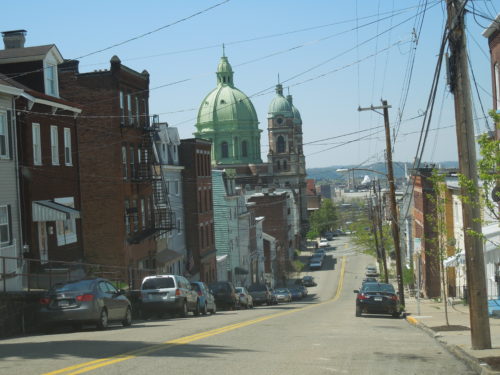 Witamy! Pittsburgh's Polish Power  
February 11, 2015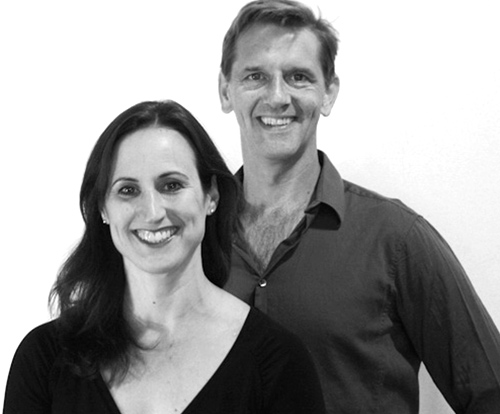 Attack Theatre, which creates original collaborative dance-based performances, was founded in 1994 by Michele de la Reza and Peter Kope. In honor of the theatre's 20th anniversary (in 2014), Popular Pittsburgh asked Michele to reflect on the theatre's two decades of success.
Q and A
What was it about Pittsburgh that made you decide to found Attack Theatre here?
Originally from Houston, Texas, I moved to Pittsburgh from New York City to work with choreographer Mark Taylor as he became artistic director of Dance Alloy. While working for that company, Peter and I also both "commuted" to New York City as dancers for the PerksDanceMusicTheatre. As non-natives to Pittsburgh, when Peter and I decided to found Attack Theatre, we were inspired and intrigued by the space in this city: not only the interesting physical spaces that were available and waiting to be transformed into performance spaces, but also the financial and community space that made it possible to experiment and create new work.
How would you describe an Attack Theatre performance to someone who hasn't seen one?
Athletic, fun, narrative, personal, passionate. Surprisingly, people often comment that our performances are dance, but don't feel like they are watching dance. Attack Theatre offers dance performances that are dynamic, personal, multi-disciplinary…and rarely the same twice. We continually provide artistic challenges for ourselves, resulting in the creation of diverse repertory in a variety of spaces and settings.
How does creating and performing in Pittsburgh differ, do you think, than if you were in some other city?
Attack Theatre really is an extension of our experience in Pittsburgh. It would be a very different company if we were in a different city. The openness of collaborators to work and create with Attack Theatre (from Pittsburgh Opera to Quantum Theater to the Warhol Museum) has been an essential part of the founding and development of the company. Pittsburgh has a cultural community that is not bound by some of the same restraints that I see in other cities. The classical arts organizations are open to experimenting with the contemporary art organizations. The larger budget organizations collaborate with smaller budget organizations. Businesses and corporations are supportive of the arts and are willing to help in a variety of ways. This creates a unique cultural ecology that benefits Attack Theatre and the entire cultural community.
You perform original works. Where do they come from? And what is the process for bringing them to the stage?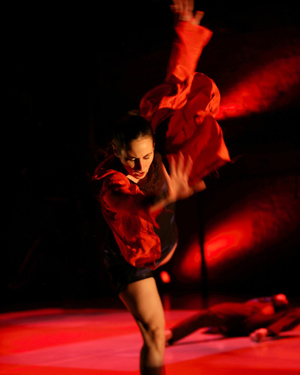 In dance you do not have a script (theater) or score (music) to interpret and bring to life on a stage. This does make it very challenging and often requires a longer rehearsal and development period. We are inspired by the people, places, music, objects, dreams…we often say that our work creates "passionate portrayals of everyday life." Bringing it to the stage requires months of brainstorming, rehearsals, fundraising, experimenting, improvising, and collaborating with designers. You would be shocked to see how much movement material is generated but not used in a performance. It is a process of distillation to find the most effective vocabulary and theatrical narrative to communicate our ideas to an audience. If you want to see the process first-hand, next season we are creating more opportunities for audiences to participate in the process of creation in the studio. Each month we will open our doors and invite people to observe our rehearsals and meet the dancers.
Since this is your 20th year, you have obviously been very successful and your work has been embraced. Was that always the case? How difficult was it when Attack Theatre began?
We began Attack Theatre on a per project basis in 1994. For almost ten years, Peter and I were responsible for all aspects of the organization, which was a difficult but important part of our development. We had a very small budget and moved from space to space to rehearse. Our administrative center was originally on our third floor. Over the last decade, we have been fortunate to have incredibly talented, passionate, and creative people working with us who have helped us grow the organization. We now have an active board of directors and four full-time administrative staff positions.
You have performed locally, nationally, and internationally. Do you have a favorite place to perform?
My favorite performance experiences were in Avignon, France. We performed at the Avignon Festival for two consecutive summers. It was a beautiful city and densely packed with artists from around the globe. We performed two shows a day. One performance occurred in a small theater and one performance, "Some Assembly Required," brought the audience down the cobblestone streets to various art galleries for improvisational performance of dance and music. We performed approximately 20 times in only two weeks and always looked forward to the evenings of delicious French food and wine.
The theatre has education and outreach programs. What has been the reaction of students and those who have seen you perform through these programs?
All our education and outreach programs have a vision of movement as an essential part of life and learning. Regardless of ability and background, all students can move and feel successful in our workshops. Our approach to kinesthetic education is empowering to students who need different teaching strategies. Students enjoy the creativity and physicality of the classes and love the opportunity to express themselves differently in a school environment. When we perform in schools, the elated screams and applause from the children seem like a rock concert. I often wonder if they realize they are seeing modern dance.
You and Peter are married. Were you married when you came to Pittsburgh or did the city spark the romance? Do you have any children?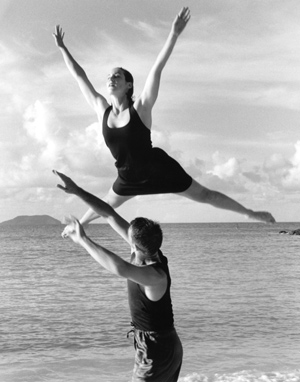 Peter and I met in Pittsburgh and will be celebrating our 15th wedding anniversary this August. We have a fabulous son, Xander, who will be turning six in July. By the time he was 24 months, he had flown on 25 flights and loves going on tour with the company. We lived in Wilkinsburg for many years and now live in Highland Park.
What do you see in the future for Attack Theatre?
It is truly exciting to begin our 20th anniversary season. We have piles of notebooks full of performance ideas, community projects, collaborators that we still want to pursue. It is energizing to realize that we have at least the next 20 years to explore them. This season, we will be introducing some new dancers, working on a 12-month project on the North Side that culminates at the New Hazlett Theater in June, collaborating with Chatham Baroque for performances at The Kelly Strayhorn, exposing our creative process by inviting audiences to our studio in the Strip District that we share with the Pittsburgh Opera, and hosting lots of 20th Anniversary events and parties for our friends and supporters to connect with the company and each other, and celebrate the beginning of our next decade.