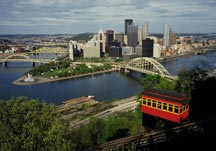 A Crash Course on Pittsburgh
April 7, 2015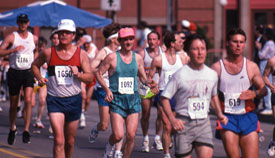 Dick's Sporting Goods Pittsburgh Marathon
April 28, 2015
My buildings will be my legacy… they will speak for me long after I'm gone.  ~ Julia Morgan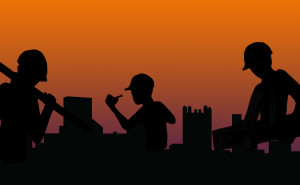 Pittsburgh's iconic skyline is as distinct as a human face.  Our cityscape features an eclectic mix of historic or state-of-the-art buildings. Our bridges have been around for many decades and greatly influence the appearance of the skyline. But who are the masters responsible for creating this skyline?  They are a symphony of craftsmen and women, skilled union workers. They worked in unison to create lasting structures.
Below is a list of some of the labor unions which have helped to build the city we know and love.
Heat & Frost Insulators and Allied Workers
These workers help to keep the warm air in during the winter and hot air out during the summer by installing insulation, which also helps to save energy dollars and keep the ambience comfortable.  In addition, Heat & Frost Insulators and Allied Workers also mitigate lead and asbestos.
Boilermakers
Today, the term boilermaker is a bit of a misnomer since these skilled craftsmen do much more than work on boilers.  They build, repair, and maintain all types of boilers, tanks and pressure vessels, in addition to performing structural and plate work on dust, air, gas, steam, oil, water and other liquid-tight pressure vessels.
Carpenters
Before iron and steel came to be, there was wood and there were carpenters.  The work of a carpenter spans a large area from macro to micro.  They frame in large structures and can carve intricate detailed trim work.  In addition, carpenters work as pile drivers, floor coverers, and millwrights.
Laborers
As the name implies, laborers do the heavy, physically-demanding work.  They are also involved in demolition.  While vitally important, labor work generally involves unskilled or semi-skilled construction tasks.
Electrical Workers
Electrical workers light up your life. Literally.  Without these skilled tradesmen, we'd be sitting in the dark.  Electricians work outside as lineman and inside as wiremen in commercial buildings and residences.  In addition, they install the necessary equipment for telephones, video distribution systems, and computer networks.
Iron Workers
The Iron Workers motto is:  We Don't Go to the Office. We Build It.  Indeed, these are the workers who erect the structural skeletons of the buildings and bridges that dot our landscape.  They also pre-cast concrete and construct wind turbines.
Plumbers
While all tradesmen are indispensable, plumbers, like electricians, make our lives more comfortable, and when the electricity or plumbing fails, you realize how much you value their work.  Plumbers install fixtures and maintain and repair piping systems that supply water, gas, and fuel as well as the piping for wastewater and sewage.
Sheet Metal Workers
Sheet metal workers are versed in taking sheet metal and constructing metal roofs, duct work for heating and ventilation systems, siding, and ventilation equipment.  They work in the shop constructing pieces as well as at construction sites.
Sprinkler Fitters
Sprinkler Fitters help to keep people safe inside buildings by preventing fires.  They are specialists who install and maintain sprinkler systems.
Steam Fitters
Like Sprinkler Fitters, Steam Fitters are specialists in the pipefitting trade.  Steam Fitters are experts in installing systems that move liquids or gases under high pressure.
Roofers
Roofers install, repair, or replace roofing systems.  They can work with a variety of materials from shingles to tiles,  all to keep your shelter safe and comfortable.
Cement Masons
Cement Masons pour concrete and finish the exposed concrete surface.  In addition, they also remove old concrete with power chisels and hammers and repair concrete surfaces.  They work on everything from patios to dams and highways.
Painters
Painters are among the group of skilled workers known as finishing tradesmen.  These workers apply the finishing touch to walls, bridges, and buildings.  They also apply stains and special coatings.
Bricklayers
Everyone knows the story of the Three Little Pigs and how the pig that constructed his house out of  bricks had the sturdiest structure.  Bricklayers lay concrete cinder block foundations, construct brick walls, and chimneys as well as walkways.
Heating, Ventilation, & Air Conditioning Mechanics & Installers
When Goldilocks deemed it too hot or too cold, she should have called an HVAC Mechanic & Installer.  These tradesmen work on heating, ventilation, cooling, and refrigeration systems that maintain the temperature and quality of the air in buildings.
Next time you gaze at Pittsburgh's spectacular skyline and bridgeworks, think of all of your fellow Pittsburghers  who have helped to make the face of our city so striking.