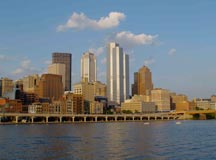 Pittsburgh's Historical Skyline
February 11, 2015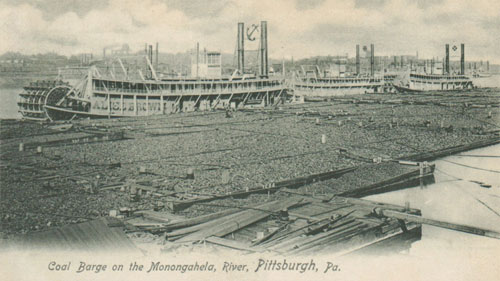 Pittsburgh's Pollution History
February 11, 2015
Pittsburgh is proud of its famous sons and daughters, including William Pitt, Stephen Foster, Andrew Carnegie, Nellie Bly, and Fred Rogers. But like most families, Pittsburgh has had its share of black sheep.  Some of Pittsburgh's most notorious residents have stories that still fascinate today.
Simon Girty
You may have heard of the stream called Girty's Run.  A tributary of the Allegheny River that runs through the North Hills, Girty's Run has often been in the spotlight because of recurring flooding in the municipality of Millvale.  Not only has the creek caused problems, but its namesake, Simon Girty, wreaked havoc in the area more than 250 years ago. Girty was born in 1741 near Harrisburg to Irish immigrants.  When his father was murdered by Indians during the French & Indian War, Girty was taken prisoner by the Seneca at the age of 15 and held captive.  He endured watching the Indians torture his stepfather to death.  While in captivity, he picked up the language and Indian culture.
After Girty was released, he served the British as an interpreter of the Native American languages and settled near Fort Pitt on a small stream or run which became known as Girty's Run.  Simon Girty did not conform to military life and was eventually discharged, but not before being charged with treason for suspicion of planning the capture of Fort Pitt.  Girty was eventually acquitted.
When revolution broke out, Girty sided at first with the patriots; but in March of 1778, he turned his back on the colonials and cast his lot with the British, deserting with several others.  Girty is reported to have participated in savagery against the Americans.  Among his most dastardly deeds was his behavior during the cruel death of Col. William Crawford in northwestern Ohio.  According to the Ohio Historical Society, while Crawford was being burned, stabbed, and scalped at the hands of the Delaware Indians, Crawford begged Girty to shoot him to end his misery.  Girty is reported to have laughed.  After the Revolution, Girty still assisted the Indians in their resistance against the Americans settling Ohio.  As more Indians realized that resistance was futile, Girty escaped to Canada where he died in 1818.
John Tiernan
If Girty hadn't died in Canada, he may have enjoyed the same fate as John Tiernan.  Tiernan has the dubious distinction of being the last person publicly executed in Allegheny County.  He was convicted of brutally murdering a co-worker.  On March 25, 1818, Tiernan was transported by cart from the jail.  A large crowd followed him to the gallows on Fourth Street.  Spectators including women and children lined the nearby roof tops, as the noose was placed around the criminal's neck and the trap door opened.
Katherine Soffel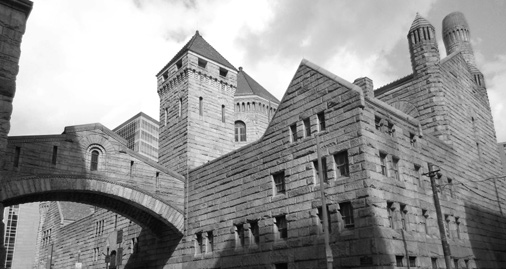 If you could pick a theme song for our next notorious Pittsburgher, it would have to be "What I Did for Love."  In 1902, Katherine Soffel, the wife of the Allegheny County jail warden, fell in love with convicted criminal Ed Biddle, who was housed in the jail.  Biddle and his brother, Jack, were awaiting execution for murder.  The pair was believed to be part of the "Chloroform Gang," a band of criminals whose modus operandi was to break into a business or home and use chloroform to render their victims unconscious so they could rob them.  During once such caper, a shopkeeper was shot and the Biddle brothers were held for his murder.
Soffel, who was reported to be a reserved, God-fearing woman, smuggled a gun into the prison and helped the brothers to escape.  Abandoning her four children, Soffel joined the Biddles as they hopped a trolley to West View. From there the fugitives walked to a farmhouse on Route 19 where they stole a horse-drawn sleigh and a shotgun.  They headed toward Butler with the intent of escaping into Canada. Police officers from Allegheny and Butler counties plotted how to thwart the trio, taking up a position at the Graham farm.
When the fugitives arrived at the farm, they were ordered to surrender.  A shootout ensued, wounding both Biddle brothers and Kate Soffel.  The Biddles died, but not before Ed admitted to shooting Kate at her request.  She survived her injuries and was convicted for her crimes, spending several years in the Allegheny County jail, the same jail from where she had helped the Biddles escape.  When she was released, Kate Soffel became a seamstress, opening a shop on the North Side on Maiden Lane.  She died not long afterward.
Crime of the Century
The first "Crime of Century" happened in 1906, and the star accused was none other than Pittsburgh's own H. K. Thaw.  Thaw was the son of a wealthy coke and railroad magnate.  Many believed that H.K. Thaw was mentally unstable.  He became infatuated with Evelyn Nesbit, also a Pittsburgh native. The beautiful Nesbit was one of the most sought-after models of the time and a "Florodora Girl."
Thaw pursued her until she consented to marry him. Stanford White, the noted womanizer and architect of such edifices as the Washington Square Arch and Madison Square Garden II, had instigated an affair with Nesbit when she was only 16 and he was 47.  In addition to his architectural works, White was famous for his Red Velvet Swing.  He liked to have his conquests in various stages of undress swing on it in his apartment. Apparently, the thought of White's having had his way with Nesbit was too much for Thaw to bear.
On June 25, 1906, Thaw and Nesbit attended a dinner theatre atop Madison Square Garden.  Unfortunately, White happened to be there as well.  As Thaw and Nesbit made their exit, Thaw pulled a revolver and unloaded three bullets into White's skull, killing him.  Thaw was charged with murder and went to trial.  The jury found him not guilty by reason of insanity. This event inspired the novel Ragtime and the movie by the same name, as well as another flick entitled The Girl in the Red Velvet Swing.  Thaw is buried in Allegheny Cemetery.
By Janice Lane Palko