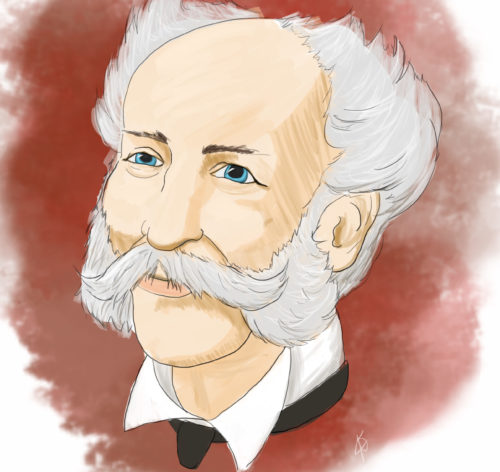 H. J. Heinz : The Man
February 11, 2015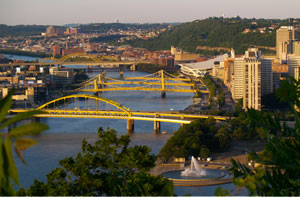 Pittsburgh: Bursting with Bridges
February 17, 2015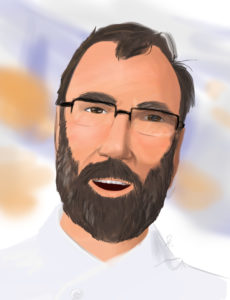 The dictionary defines chemistry as the branch of science dealing with the composition, structure, and properties of substances, and the transformations that they undergo. It may seem odd that one of Pittsburgh's premier chefs has a chemistry background, but when you broaden the definition of chemistry, the leap from atoms and molecules to appetizers and mousse is not a large one. With his advanced degree in chemistry, Chef Bill Fuller is able to transform ingredients into culinary delights. The combination of chemistry and gastronomic genius seems to be the perfect recipe for the Big Burrito Group, where Fuller serves as Corporate Chef.
Native of Dubois
Fuller is a native of DuBois, Pennsylvania, where becoming one of the city's top chefs was not on the menu when he was growing up. In fact, in his bio on Big Burrito's website, Fuller states, "My mom could barely make an edible meatloaf."
"I was a lousy eater as a kid, super picky and skinny, and I didn't like green vegetables," Fuller said. Indeed, as a youngster, Fuller was no gourmet.
When he was 18, Fuller left DuBois to hitchhike across the United States. Once he reached San Francisco, he hung out at Grateful Dead shows. After heading back east, he became a line cook while studying chemistry at George Mason University. Eventually, someone encouraged him to attend culinary school while he worked at the highly regarded Occidental restaurant in D.C. From there, he headed back west for a Masters in chemistry, and then finally settled in Pittsburgh. It was here that our favorite chef joined forces with Tom Baron, one of the founders of the Mad Mex restaurants.
Mad Mex Restaurants
In 1993, Tom Baron, founder of the Big Burrito restaurant group, came to Pittsburgh from New York City. He had a vision of creating a fun experience, where quality dining mixed with a vibrant bar scene. Baron felt Pittsburgh lacked that and sought to fill the void.  Thus, the first Mad Mex restaurant opened in Oakland. Not long after, Bill Fuller joined the group.
Six Mad Mex restaurants have been added in the Pittsburgh area since Fuller got involved. From there, the Big Burrito Group branched out across the state to State College and Philadelphia, and then westward to Columbus, Ohio. In addition to the Mad Mex group, Fuller also oversees the eclectic collection of five other excellent restaurants in Pittsburgh: Casbah Mediterranean Kitchen & Wine Bar, located in Shadyside; Soba, a Pan-Asian restaurant also in Shadyside; Kaya, featuring cuisine from the Caribbean Islands, South America, and Pacific, located in the Strip District; Umi, a Japanese restaurant also located in Shadyside; and Eleven, a contemporary American restaurant, also located in the Strip District.
When asked how he develops the dishes served at the various restaurants, Fuller said it is a collaborative effort. "It's team work really. Each of our restaurants has an executive chef and they know what works and doesn't work, what they do and don't like. We get together, talk about what's in season, throw things together, and taste them."
Keeping Creative Juices Flowing
Fuller travels and tries to eat at other restaurants to keep those creative juices flowing. The key, according to Fuller, is "to look for trends and ferret out the fads." Along the way, he has eaten grubs and ant larvae in Mexico, and fried brains in Thailand. "I figure you've got to at least try it."
Don't expect those dishes to be available anytime soon at the Big Burrito's restaurants. However, Fuller compliments Pittsburghers on their dining proclivities. "I've watched the Pittsburgh dining scene develop. I give Pittsburghers credit, they are just about as adventurous as anybody else."
Pittsburgh Magazine has named him both Chef of the Year and Restaurateur of the Year. In addition, Fuller's work and the Big Burrito Group have not gone unnoticed outside of Pittsburgh. In 2012, Baron and Fuller were nominated for awards in the best restaurateur category by the prestigious James Beard Foundation, the revered culinary-arts organization.
For all his notoriety, Fuller is not a food snob. His go-to comfort food is Chicken and Dumplings. "I make really big dumplings with butter and eggs," and "it's Mineo's pepperoni pizza when you just need a good old pizza."
He also loves doughnuts. "One of our chefs has a relative who owns Carol's Pastry Shop in Zelienople, and when he brings in doughnuts from there, it's just great."
However, don't put nuts in his chocolate chip cookies. "I like dunking chocolate chip cookies in milk, but I get mad when I find a walnut."
Fuller is married and has two children, who he teaches to cook. "I want them to know how to change a tire, sew on a button, and cook."
Advocate
An advocate for using local, fresh, in-season products, Fuller has worked to develop relationships with local farmers. He often speaks on the benefits of locally farmed foods. In addition to his work in the kitchen, Fuller has become Pittsburgh's de facto ambassador for fine dining and cooking. Not stingy with his recipes, Fuller regularly appears on KDKA-TV's Pittsburgh Today Live show, where he tantalizes viewers with his easy, delicious recipes that they can create at home. He also joins WYEP 91.3 FM radio's Cindy Howes on the show Pairings, where the duo challenge each other to match-make favorite songs with appropriate food and drinks.
When talking to Fuller, you realize that his work is more than just creating tasty dishes. The gourmets at Popular Pittsburgh often discuss food, and what would they choose for their last meal. We posed that question to Fuller, and his answer tells you that his work is a labor of love. "My last meal would probably be Littleneck clams steamed with bacon and fresh thyme, with crusty bread, and a cold beer because it reminds me of being at the beach, staying at a beach house, hanging out with those I love. I love to cook and feed people. You can't do this so well and for so many years without wanting to cook and take care of people."
For those aficionados of fine food in the region, Fuller's culinary creativity and passion for his work makes for a winning equation and good chemistry.