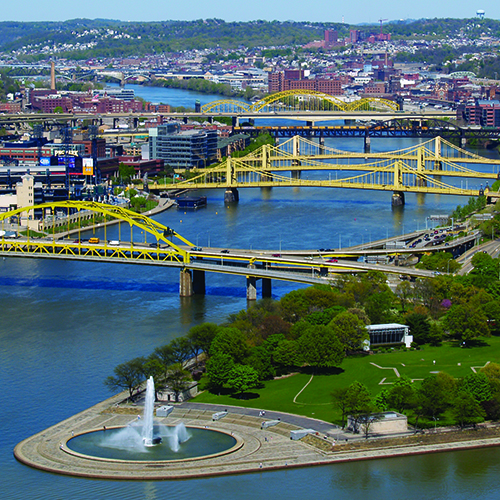 Ten Great Scenic Views of Pittsburgh
November 24, 2014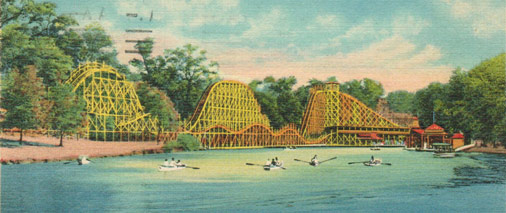 West View Park
November 24, 2014
From Poorhouse To Golfer's Paradise: The Transformation of Woodville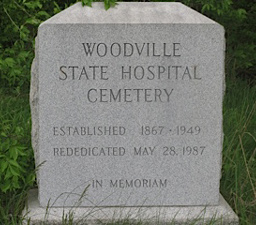 All that remains today is a makeshift cemetery. The graves are abandoned, smothered by weeds and brush in summer, and buried by snow during winter. Tucked away in transitional space between one of Pittsburgh's most upscale housing developments and the commercial/industrial area that supports it, there is one major gravestone, marking and commemorating the institution for what it once was.
Woodville State Hospital built this cemetery, and even if their grave markers bear only numbers (as in "patient numbers") the people who lived and died at Woodville remain where they were laid to rest.
The ironic thing about what Woodville once was and what it is today is the fact that it began as a County-Run "Poorhouse." First founded in 1854 to serve Allegheny County, Woodville was the place people went when they did not have enough money to subsist in the mainstream of society. As it grew, Woodville's comparatively isolated location, far enough from the city to remove perceived threats to the dense population, allowed it to safely house and treat tuberculosis patients, and ultimately became a state-run mental hospital.
Mid-19th Century
In the mid-19th century, the idea of taking care of people by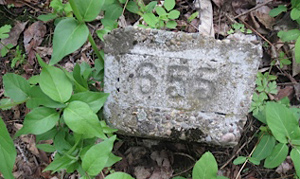 isolating them in such a place was a step up! Before this time, most patients suffering from disorders such as schizophrenia, severe depression and other ailments, were ignored, abandoned or placed in jail.
When it was a hospital, Woodville housed as many as 3,200 patients. The complex included farmland to grow its own vegetables, grazing cattle that provided milk and meat, and green sectors that sprawled over this large plot of land in Collier Township. Woodville even had its own coal-fueled power plant! The smokestack still stands.
The Commonwealth of Pennsylvania took over the institution (with the exception of the "almshouse" portion) in 1939. Then, as progress was made and the idea of taking care of the mentally ill progressed from "hiding them away" to providing medication, therapy and a bridge back to life, Woodville was no longer needed. It was finally closed by the state in 1992. The hospital's remaining 460 patients were either sent to Mayview State Hospital or re-integrated into mainstream society through the help of community service programs and outpatient care.
Although some were dismayed to see it go, by the time the hospital was closed, Woodville's transformation had already begun. Even before it was officially closed, the land was being divvied up for future use by the community.
The Poorhouse
PennDOT built a $4 million headquarters on part of the land, and much of the rest of it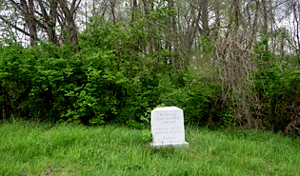 was subdivided and sold to developers. Before long, on the very spot where people went to "the poorhouse", would stand one of Pittsburgh's, if not the nation's, most posh and pristine luxury communities.
The municipalities that surround the site once occupied by Woodville, namely Heidelberg, Scott, Collier and Bridgeville, became increasingly affluent during the late 1980s. At the time, Jack Nicklaus was in the business of designing luxury golf courses, and developers were building housing communities that reflected the era's affluence for residents who had a "near-madness" for golf. Developers Rick Stambrosky, his father, George, and partner Mike Dempster met with Nicklaus, and a golf and housing masterpiece was created. Nevillewood broke ground in 1990.
When it was first built, the Pittsburgh Penguins, then-reigning NHL champions, bought more than a few of the new homes. During the off-season, and while the clubhouse was under construction, it wasn't unusual to sit down on the bench in the temporary clubhouse to change into one's golf shoes only to be joined by Mario Lemieux himself! The beauty and desirability of the area attracted more and more people seeking to build brand-new, beautiful homes. Carriage houses were grabbed up by empty nesters craving the luxury and convenience of this gorgeous community. Charity golf tournaments were attended by the likes of sports greats Dan Marino, Michael Jordan, Lynn Swann and Franco Harris. Nevillewood continued to flourish as more wealthy and prominent people built even larger and more fabulous homes.
While the golf course and the huge houses were taking shape and coming into being, the surrounding area continued to thrive, as well. Shopping centers, a new school complex, a beautiful housing plan and parts of Nevillewood itself now occupy the spot where Woodville once was. New families have brought a level of prosperity that certainly could never have been imagined by some of Woodville's first residents! While it's sad to see the abandoned gravestones and think of the suffering that took place back then, it's hard not to be pleased that somehow, the land that was once such a focus of pain and distress has been turned around to create a much happier place.