Pittsburgh has often been characterized as "a shot and a beer town." In the late 1800s, there were many regional brewers, but in 1899, many of them banded together to form the conglomerate Pittsburgh Brewing Company. Big brewers reigned for nearly eight decades. Since the 1980s, however, favored suds have shifted from large breweries to artisans. The region is no longer dominated by a few mega-breweries but dotted by numerous craft brewers, giving beer drinkers here a wide variety of brews to choose from. With the proliferation of small breweries in the area, the city today might be more aptly called "a shot and a craft beer town" (see 
Tapping into Pittsburgh's Beer Scene
).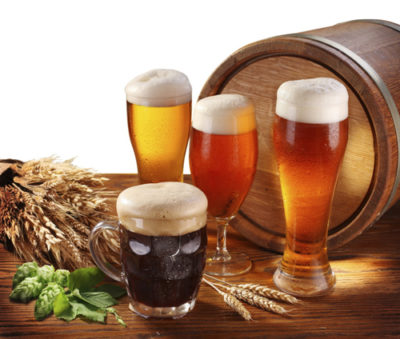 Below is a 20-pack of some of the best small breweries in and around Pittsburgh:
11th Hour Brewing Company
Located in Lawrenceville, 11th Hour Brewing Company features an assortment of brews from Belgian Blonde to Blackberry Raspberry Mead.
Abjuration Brew Company
Abjuration Brew Company is located in McKees Rocks and likes to experiment not only with their beers but also by offering its beer at The Parkway Theater/Film Lounge.
Allegheny City Brewing
Allegheny City Brewing is another home-brewing enterprise that has expanded to become a small craft brewery. Located on the North Side, the brewery has up to 12 of its craft brews on tap.
Aurochs Brewing Company
Love beer, but can't tolerate gluten? Then Aurochs will have you crying in your beer for joy. The brewery located in Emsworth brews naturally gluten-free beers.
Brew Gentlemen Beer Company
Located in Braddock, Brew Gentlemen is the brainchild of two Carnegie Mellon grads. The brewery opened in 2014 and has two flagship brews: General Braddock's IPA and Carnegie Premium as well as a variety of seasonal and occasional brews.
Church Brew Works
Once a Catholic church, Church Brew Works in Lawrenceville is one of the area's first microbreweries. Many of its brews can also be found at local distributors.
Cinderlands Beer Company
At Cinderlands Beer Company in Lawrenceville, the beer is handcrafted, and the food is made from scratch.
Cobblehaus Brewing Company
Located in Coraopolis, Cobblehouse Brewing Company specializes in European and Belgian style beers.
Couch Brewery
Their brews, named after pieces of furniture, makes drinking beer fun. Located in Larimer, Couch Brewery has several regular beers as well as seasonals.
East End Brewing Company
East End Brewing, located in East Liberty, brews about 35 different beers annually and supplies many restaurants throughout the region with its brews.
Full Pint Brewing Company
Full Pint Brewing crafts their beer in North Versailles and has a wide variety on tap. It also has a pub, Full Pint Wild Side in Lawrenceville.
Grist House Craft Brewery
Like many brewers, Grist House began as two friends and brothers-in-law crafting beer in their home and then expanding the operation. Grist House features numerous IPAs as well as a variety of others.
Hitchhiker Brewing Company
Hitchhiker started brewing in 2014 in Mt. Lebanon and expanded in 2017 to a production brewery in Sharpsburg. Both locations serve the breweries six core beers as well as a rotation of seasonal brews.
Hop Farm Brewing Company
Hop Farm Brewing in Lawrenceville grows its own hops, and since 2013 has been using them to craft their signature IPA and other varieties of beer.
Mindful Brewing
This Castle Shannon brewery opened in 2017, and in addition to its own brews, it has 70 rotating beers on tap. It also has wine on tap for the wine lovers.
Penn Brewery
Opened in 1986, Penn Brewery on the city's North Side is one of the area's first craft brewers. Their beers have won numerous awards.
Roundabout Brewery
The Roundabout Brewery's brewmasters hail from Detroit and Christchurch, New Zealand, but fell in love with Pittsburgh and decided to bring their craft beers expertise to Lawrenceville. The beers change every 3-4 weeks.
Spoonwood Brewing Company
Spoonwood Brewing in Bethel Park is a 15-barrel brewhouse with nearly a dozen craft beers on tap. It also features local spirits, ciders and mead.
Strange Roots Experimental Ales
Formerly Draai Laag, this Millvale brewery has reopened in 2018 as Strange Roots Experimental Ales and offers a variety of new craft beers.
Voodoo Brewery
Oh, that Voodoo that you brew! This brewery located in Homestead has six regular beers, and crafts seasonal ones throughout the year.
By Janice Lane Palko